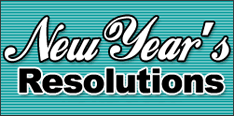 Today's mission is to check up on 'em and really see what's going on.
How are they doing?  Have you been nurturing them and helping them grow?  Is this the first time you've thought about them in 9 months? :)
To be completely honest, I've totally forgotten what mine even were!  So I'm gonna to go back to my new years post right now and copy/paste them here, and then we'll all see how awesome or not I'm doing – haha… I suggest you do the same!  Unless, of course, they no longer apply, but usually they still do since we tend to pick really important and/or HUGE gargantuan goals every year.
Here's what I had listed in January:
To max out my 401(k)s AND Roth IRA again.
To help Mrs. Budgetsaresexy max out HER Roth too.
To reach a Net Worth of $200k.
And lastly, to better manage my time! (Why is that always so hard?)
I gotta laugh on that last one :)  I am in the EXACT same boat as I was when I wrote that, haha…. still not good at prioritizing, and still not good at sleeping more (in fact, I'm now averaging 4-5 hrs of sleep a night instead of 6-7 back in the day).
As for the others, it seems I kinda cheated and picked goals I'm always trying to do anyways!  Which is good for completing them more and staying on track, but not so much in growing and aiming for something bigger.  But what's better than financial freedom, anyways? haha…
My progress so far:
Maxing out 401k & Roth – DONE! Crazy early too since I front loaded my investments this year (to make sure I got all my matches and before I changed my mind ;))
Max out the Mrs. Roth – 10% complete?  We finally opened one up for her this year, and converted older Traditional IRA plans into the new Roth, but we've only thrown in a few hundred so far.  I'm not sure if it makes sense to max this out yet until we figure out my 9-5 nonsense.
Reach a $200k Net Worth – Slowwwwwwly getting there but it's seeming more and more out of my control for the rest of the year.  Most of my investments are now in (except for some outstanding issues I'm dealing with which I unfortunately can't get into here), so it's really up to the markets and any extra savings that hit from my side hustles. Ya never know though, we've still got 3 months left…
Managing my time – yeah, pretty much a big fat goose egg.  I'd say I'll start working on it again but I just don't have the time!!! :)
Overall, it looks like we're doing okay (as long as you count 1 for 4 "okay").  So I'm gonna stay the course and wait to come up with some fresher/more interesting resolutions for next year.  Now it's your turn. What's the status on YOUR resolutions? Are you still fighting the good fight, or have you lost all motivation? Let us know so we can give ya a high-five, or a down low – " oops, too slow!"