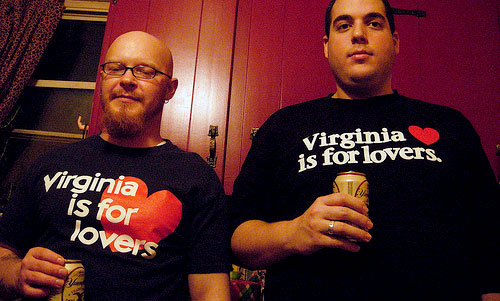 Opah! Party time! We're finally getting outta here!! ;)
MAN I can't tell you how excited we are… 5+ years in a row living in the same place is liable to give any A.D.D./Military folk a stomach ache. It's time for brighter and greener pastures – woo! And we actually found a home that satisfies BOTH of our major wants, which is great. All the places we've been finding only had like 50% of them, or all of mine but  none of the Mrs', etc. So we got really lucky in the end. Well, if you can call it that – we only looked at like 150 places all over creation ;)
Here was our short list of things that were a *must* in our next home:
3 bedrooms (or 2 with an office)
Walking distance to a downtown area
Close to at least one family member, preferably a parent
An older home with lots of "character"!
Upgraded appliances/bathrooms/AC/kitchen.
So basically – an older house that looks new inside, smack dab near a city center :) For less than $1,700/mo – a tall glass of water for most cities on the East coast (where we wanted to stay, at least for now). Our plan is to live in this new place for just about a year until the wife finishes her dissertation, and then we'll be moving wherever she gets her first job in her new career. So who knows what's next on the list?
But for the next 12 months, we'll be calling Virginia our new home. It was a close call between VA and North Carolina, but in the end the homes and price range (and family locations), favored VA more and the second we saw this place come on the market we grabbed it and locked everything in. We already signed the lease and everything – it's going so fast!! But I love it…
I mentioned this before, but I haven't felt this alive in a while – outside the birth of our baby boy, and possibly the day I got fired ;) The old me was GREAT about taking action on something I really wanted – usually within weeks – but it seems lately I let the 1,001 variables of whatever I want get in my way and slow me down… It's been over TWO YEARS since we've wanted to move and we're only now doing something about it! That's terrible… I liked the old me much better in regards to that (but not on 99% of other things, haha…)
Here's what the financials look like on our new place:
$1,700/mo rent
$1,700/deposit
$500 pet deposit
$3,900 in cash right off the start, ugh… But at least we should get back more than half of that come the end of the year – my cat's antics pending. The funniest part about applying for this place though (outside the 30+ pages we had to fill out, what a joke!) was when they had to call my employer to verify I work there and my pay. I stated clearly that I owned my own business – and thus, work for myself – but I guess they didn't see that or care and ended up calling myself to check up on, well, myself :) It was awesome. At first I pretended to be "my boss" to be funny, but I think she got more confused than anything, haha… so I gave in and gave her the dirt. Good times, good times…
So now the race is on! We have to pack up faster and faster, and then get our current home ready to be placed on the market to be rented itself. We're too underwater to sell, and we're kinda interested in experiencing the whole "renting out your house" deal anyways lately. So my mind is already considering our place an investment property – and I love it!! That means we'll be able to make smarter decisions in how much we update (or not) our house for future renters and what not. So that research gets pushed to the top of the list too!
Lots to do in a short period of time now, but by this time next month we'll be all moved in and done :) We were able to push out our move in date to the new home until mid-June, which gives us about a month to get out of here and have it all cleaned up and rented out.
My feeling is we may lose a half-month's worth of rent, or even a full one, but we'll be doing our best to knock 'er all out and cross that finish line ASAP. There's really no way around it unless we waited to have it rented out first and THEN looked for a home last minute – which was too risky for us. The point of moving is to find an AWESOME place within an awesome location, and we weren't willing to risk not getting that. Especially when we found the perfect new home for us!
So wish us luck! Times are a changin', my friends. Gotta pursue those dreams while we can!
————–
PS: You know what this also means?? We still get to watch and cheer on our REDSKINS every weekend! Woohoo! I promise that wasn't a factor though, we're not THAT hardcore, haha…

{Photo by Hryck // I need to pick me up one of those shirts!}