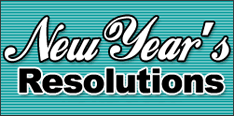 It's true, we're all blogging about New Year's resolutions today cuz we just can't help ourselves. Fresh starts are so refreshing!  Lots of hope and lots of opportunity just waiting for us to take hold and run with it.  The only sad part is that we get all revved up and then slowly burn out after week 3. (boooooooo)
I think I know how to fix this, though ;)  Instead of trying to change a hundred things with our lives each year, how about just 1? Like, one MAJOR awesome CRAZY thing that if you could pull off at the end of the next 12 months you'd be one HAPPY mother f'er?! Know what' I'm saying?  If you could ask for just 1 thing, what would it be?  ("ask" as in "ask of yourselves" btw – not like a magical genie where you can ask for 100 more wishes to game the entire system, you sneaky bastards ;))
I think it would work.  Focusing all that energy into one main goal for yourself.  Would require lots of mini-steps to reach the final outcome, of course, but it's still all going toward one ultimate success. I think we can do it!
Here were my resolutions last year:
Max out my 401(k)s AND Roth IRA again. (Completed!)
Help Mrs. Budgetsaresexy max out HER Roth too. (Not even close)
Reach a Net Worth of $200k. (YES!!! Although you haven't seen yet ;))
And lastly, to better manage my time! (HAHAHAHAHAHAHHA)
And here they are THIS year:
Work for myself for 12 months straight.
That's it – plain and simple.  I don't want to save a bazillion dollars this year, I don't want to run for office or meet a celebrity, and I certainly don't care about my hand writing any more (I've had that on my list for a solid 25 years already – I don't think it's going to happen! haha….).
The one and only thing I genuinely want to work on this year is my lifestyle. Just me and all my blogs and projects and and who knows what else that will soon be coming.  If I can manage to sustain this dream life for one entire year, we'll call it a  success.  And the first time ever I actually resolve my Resolutions ;)
What could your 1 goal be? Eliminate all debt?  Buy a house?  Start an empire?  I wanna know.  And at the end of the year I'll be coming around to each of you to make sure you accomplished it . So no pressure at all ;)