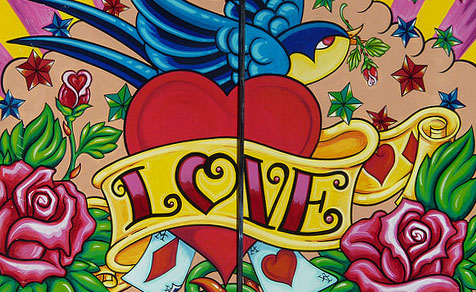 I came across by Kathleen (Frugal Portland) the other day, and I absolutely LOVED the idea she threw out to her audience regarding the stuff we fill our lives with.
She had been inspired by a quote she read in an NPR article on – which in itself was good: "you can never get enough of what you don't really need" – but I personally was more drawn to what SHE blogged about shortly thereafter:
What if, instead, we only bought things that we loved? What if when we looked through our homes and saw only the things we absolutely adored on the wall/bookshelf/cabinets/closets? We'd have less, certainly. But we'd feel like we had more.
SO TRUE! Imagine looking around your entire house right now and appreciating everything that was inside of it? The furniture, the decorations, your clothes, the spoons? (Okay, so you don't have to love everything in your house – but you get the point ;)). It's not that easy to do of course, but it still doesn't mean you can't strive for it if you think it would improve your quality of life. Or, at the least your wallet for that matter.
Reminds me of some of the things I've tried recently along the same lines:
Keep only the clothes I love/use! In a fit of minimalism over the Summer, I decided to give away/donate every last article of clothing I either didn't like much, or never used. Which literally accounted for about 97% of my entire wardrobe. I went nuts. And for a while it worked out REALLY damn well, until my favorite clothes started unraveling and deteriorating with every new use :( It's been about 6+ months now and I still haven't come up with a solution, other than going out to buy new clothes (which I'm not good at.). So in this regard it's kinda working, but also kinda not.
Only invest in stocks I use/believe in* Or, rather, only invest my IRA money into stocks that I use/believe in. Places such as Target, Panera Bread, TJ Maxx, Amazon, etc. I figured I spend all my money there anyways, and the rest of the world seems to as well, so how could you really go wrong? Well, the jury's still out on whether it was a smart move or not* (I haven't looked at the numbers in detail recently) but the last time I poked in we were doing just fine. All of the stocks had gone up with the exception of one, and I've pretty much just let them be ever since (I'll be moving my investment money around soon, with a post to follow). But the overall point was that I was investing my money into companies I really LIKE.
Only work on projects I love/believe in. As you've probably noticed I'm still blogging here on BudgetsAreSexy, and that's because it's a passion project of mine :) Along the same lines of too. Now, could I be making MORE money doing something else? Most certainly. But until I'm forced to I continue pouring my heart into these two guys hoping they'll produce enough green so I don't have to do all the stuff we hate doing just for the money.I still have to do some of it of course cuz you can't ever wipe all the nonsense away, but at least it's skewed towards what makes me happy.
Only buying things at yard sales/thrift shops that's worth "birthday money." This is a new one I'm trying, and so far so good :) I've realized over time that I treat money differently depending on where I've received it (if it's "work" money, it goes to the bills, if it's "birthday" money it goes to only really AWESOME stuff!) and when I ask myself if the object in my site is "worth the birthday money" it helps me make decisions much much faster. You can't do this with bills and other stuff we're required to pay in order to live, but you sure can with all the "extras" in our life. So now everything I pick up better really excite me or my cash is staying in my pockets!
I'm sure I've tried a handful of other similar things as well – all in the pursuit to maximize happiness and minimize clutter. Both mental, and physical. Maybe you do too? And maybe you want to share them with us in the comments so we can learn/try them out too?? :)
In , Kathleen then went on to list the 6 questions you should ask yourself before you pick up that next shiny thing in your hands. Which are all great, no doubt about it, but a bit too many to remember on the spot compared to my simple "birthday money" one:
Why am I here?
How do I feel?
Do I need this?
What if I wait?
How will I pay for it?
And where will I put it?
The 6th is probably the most important one. At least for reformed hoarders like myself. One of the things I learned from all those minimalism books/articles was that if you bring something home, you should then throw/donate something else away. To keep the same number of things in your home (with the future goal of decreasing this number, of course). It's also a question any antique lover is very familiar with :) I swear my mom asks herself this at 50% of the yard sales we hit up, haha…
Anyways, something good to think about over the weekend :) I'll leave you with another idea from the newly engaged Kathleen (Congrats!) off that same post. It's all about getting your mind right!
What if we could make saving as satisfying as shopping? I know there's a rush of excitement (however short lived) that comes with having new clothes or shoes. But it wears off. We seek the high, and once our new cute things are just our things (that maybe we didn't like all that much in the first place) we seek that hit. I get the same high from throwing money into savings"
Happy Friday!
——
*I don't advise doing this. I'm a dummy when it comes to stock picking and like to test things out in my own manner to see if I can outsmart myself ;) The majority of my money is invested in more conservative mutual funds – not individual stocks.