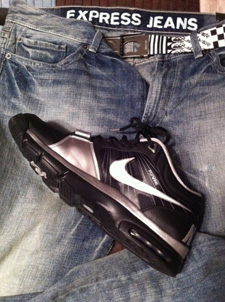 Remember how I mentioned not putting yourself into situations last week?
Well, I didn't listen to myself and I came out of the mall $100 poorer last night ;)  But in my defense I got some really great stuff! (see picture)  And , it just felt damn GOOD. I can't tell you the last time I was in that mall and I've missed the hustle and bustle there. Also, I feel like I've written this post before. Haha…
But here's the thing.  I'm getting better at *knowing* what I want, and making faster more efficient decisions around that.  I'm no longer that wandering buffoon who just walks into stores LOOKING for stuff to buy for the fun of it.  No siree, now I shop with a mission. And when I lock my eyes on something worthy, I snatch it up like it's the last one ever produced! But you can't do any of that without understanding your budget and limitations.
I've mentioned it before, but the budget REALLY does give you confidence. If you know how much "you're allowed" to spend every week (or month) you can make these types of decisions much faster.  I know I can't spend $100 on clothes every single week, but I know I can every 2-3 if I really wanted to.   And these days since I'm hardly away from the computer, I gotta snatch up those goodies at the stores while I can!  Esp if it's going to be another 6 months until I step foot into the mall again ;)
So while I did drop $100 all likity split like that, it was only made possible  due to that eagle eye on my finances.  I'm not saying you have to account for every single penny coming and going (although some people prefer this.  me, I just get bored to death!) but having a good general feeling can really go a long way when it comes to managing those shopping trips. If you can get into the habit now, your life will be a lot more easier every year that passes.  And then you, too, can blow through $100 bones without second thought ;)