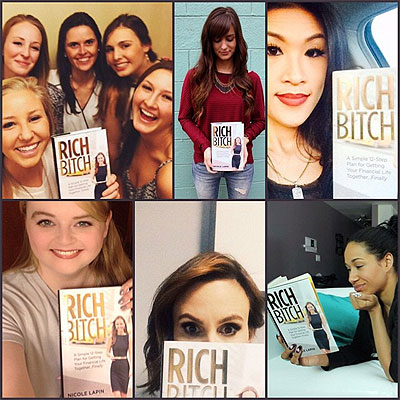 If you're offended by the word "bitch," I highly suggest averting your eyes right now and finding something better in my archives :) But for once, using naughty words is out of my control – it's in the title of a new (feisty) financial book out!
"Rich Bitch" by Nicole Lapin
I first came across Nicole on when we randomly started chatting about money, and then later realized she was a pretty big deal – hah. (She was the youngest anchor ever over at CNN and CNBC, while frequently contributing financial reports to MSNBC and Today too. A little bit more legit than a, *ahem*, blog.) But what really caught my eye was the sexiest, nerdiest, watch I'd ever seen in existence! The she designed and built to help you track your money on your wrist! Haha… Fashionable AND financial! :)
But that's for another day when I get my hands on one to test out and then give to one of y'all ;) Today we have a couple of to hand out instead which is equally entertaining…
About the Rich Bitch book:
I'm going to cheat and steal because I think it sums it up perfectly (and admittedly I haven't read it yet – so you'll have to tell me what you think when you win it!):
"Talking about money sucks; but so does being broke… In RICH BITCH, money expert and financial journalist Nicole Lapin lays out a 12-Step Plan in which she shares her experiences, mistakes and all, of getting her own finances in order. No lecturing, just help from a friend… Lapin rethinks every piece of financial wisdom you've ever heard and puts her own fresh, modern, sassy spin on it.

Sure, there are some hard-and-fast rules about finance, but when it comes to your money, the only person who can spend it is you. Should you invest in a 401(k)? Maybe not. Should you splurge on that morning latte? Likely yes. Instead of nickel-and-diming yourself, Nicole's advice focuses on investing in yourself so you don't have to stress over the little things."
And if you haven't guessed it yet, it's mainly targeted to you women :) Though I'm sure it would be just as interesting/helpful to read as a dude too. I especially like that uses REGULAR language in it and says it's probably okay to spend money on coffee – which I agree completely, as long as you're not splurging in *all* categories of your life.
Here are the she covers in the book to give you a better idea of her style/tips:
STOP SMILING AND NODDING – Embrace the Rich Bitch Attitude
HELLO, IT'S A MARATHON AND A SPRINT – Get a Grip on Your Future
YOUR NEW LBD – Create a Little Budget Diary That Fits YOU
PUT A ROOF ON IT – Home Is Where Your Stuff Is
EAT, PRAY, DRIVE – Transportation, Food, Insurance and Other Essential Expenses
GET THAT MONKEY OFF YOUR BACK – Paying Down Debt
LOCK IT UP – Saving Sucks but So Does Being Broke
WORK IT, BITCHES – Put Your Career in Overdrive (reminds me of that Britney Spears song!)
AGING GRACEFULLY – You Will Get Older—Do It in Style
MAKE IT GROW, BABY, GROW – Investing Is Just Not That Serious
BEING UNDER, OVER AND ON TOP OF "THE MAN" – Rich Bitches in a Man's World
BRINGING IT HOME – Your Life Is Your Business
Want Your Own (FREE) Copy of Rich Bitch?
This book is hot off the press and we're giving away TWO COPIES of them today. All you have to do to enter is give me your sassiest look while answering the following question:
What's the one area in your finances you need the most help with?
Leave your answers down below in the comments, and we'll choose the two winners after midnight next Sunday, March 15th. You can learn more about the book here: , and more about Nicole Lapin here:
Good luck bitches! ;) And have a great weekend!
UPDATE: Giveaway now over. Congrats to Heather (commenter #23) and Eliza Pelham Randall! And thanks for participating y'all! Great group of future Rich Bitches here ;)
————
PS: If you were counting, the word "bitch" shows up 21 22 times today, beating my previous record of 11 profanities. Oddly enough from that same Britney Spears post! (Why does she keep popping up here?)