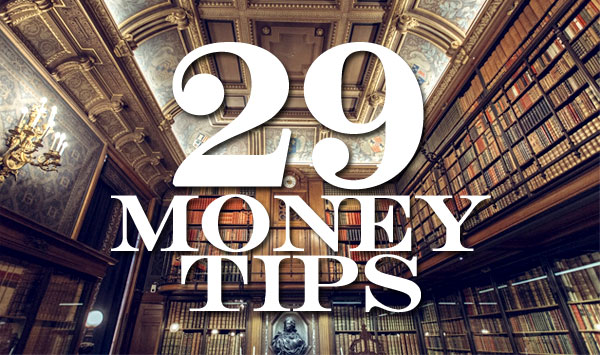 "Simply making decisions, one after another, can be a form of art." – John Gruber
So the other day I was feeling bored and pretty unproductive, and rather than waste even more of my time I decided to shoot a note to my online friends and see if I could learn something new. What they came back with was pretty juicy, so I thought I'd turn it into a blog post today instead of hoarding all the gems for myself :)
Here's what I asked them:
What's a quick trick you do with money? To save, invest, or pay down debt, etc?
And here were my favorite responses below – hope you find something to try!
Quick Tips on Saving Money
I've started paying myself a $10 penalty every time we eat out. :) –
We do No-Spend Weekends where we take what we normally would spend (an average of $50) and put it towards our travel savings. – FitnPoor.com
All our "found" money goes in a piggy bank. We then set monthly purposes for side hustle money (mortgage, travel fund, etc.) – 
Every time we do a load of wash we put $2 in a jar. (Insert "laundering money" punchline here.) Although technically earmarked for a replacement washing machine at some point, the cash recently went toward the purchase of a new fridge… You could also do it with other things, such as "put a dollar in the kitty every time you make a pot of coffee at home and pour some into your travel mug to take to work" or "put $20 in the jar every time you decide to eat leftovers instead of ordering that takeout or pizza." (Editor's note: Donna's daughter, Abby, currently has $560 saved up doing this $2 laundry trick already!) –
I play around with compound interest calculators a lot, haha. It makes me super motivated to invest/save as must as possible. – TheFreedomFromMoney.com
Digit of course! –
We live off one income and have the other income directly deposited into our savings account. This way we don't even see my income. –
I treat my savings like a monthly expense and then pay the account interest if I don't make the payment on time. It gives great accountability. –
When I get a discount on a bill (insurance, internet, cell phone), I set up and automate savings transfers. – 
I don't store credit card information online and I keep my wallet downstairs. :) –
And one of my all-time favorite pieces of advice, "When you "save" money, be sure it actually goes in the bank account and doesn't just disappear into general spending." Amen, !
Quick Tips on Paying Off Debt
I leave all income from side hustles in my Paypal account until the end of the month when I use it solely for paying down my mortgage. –
For paying off our mortgage I obsessed ALL THE TIME using my . So basically my "tricks" are automation + obsession. –  (Editor's note: I followed up with Jackie to see why she used "obsessed" in the past tense, and it's because she's completely paid off her house :) Guess that app (linked above) works!)
Any money I receive outside my normal salary (all reimbursements, gifts, etc.) goes to debt. – 
I split my monthly payments over 4 weeks for student loan payments = less interest (as accrued daily) and smaller chunks of money going to payments (easier to budget around $147/week than $1,000 full hit) –
I tricked myself into paying off our mortgage by refinancing from a 30-year to 15-year loan (and basically paying the same monthly payment). Since we had/have savings and investments, and interest rates were higher when we borrowed, this made sense for us (the home's been paid off for a few years now). – 
Every month after our mortgage payment comes out, I see what its new balance is and pay down the odd numbers to make it a nice even number via online account transfer. This encourages me to pay it down faster so if I have extra cash at end of month I make what I owe a nice round number. – 
If you have credit card debt that you're trying to pay down, pay something as soon as the bill arrives vs waiting until the due date. This simple trick will shave down the interest you pay and help you pay it off quicker. –
I use all of my cashback bonuses to pay down the balance. With some of my cards, the rewards are available immediately, and you don't have to bank $25 or $50. I've been known to make a $50.90 payment on a card with $50 being my money and the $.90 being reward. It really does make a difference. –
For other debt awesomeness, check out this tracker Jon put together tracking all the (significant!) amounts of debt that bloggers have killed so far. Pretty motivating! –>
Quick Tips on Investing
I have set up automatic contributions to my Roth IRA to max it out. –
I set a 1-month freeze on any money I deposit in my investing accounts. It keeps me from throwing the money at the first idea that comes to mind and cuts down on investment fees. –
I dump into the market chunks of $1,000. When my "Honey Pot" account has $1,000 more than I need in an e-fund, it just gets put in index funds. – 
Any time CapitalOne Investing has a bonus deal on custodial accounts, I take it. I've set up 5 accounts for my kids for college with a min. of $25 invested and a bonus of $50. I don't know of any other way to make that kind of money that fast. They let you do it multiple times. –
For our Roth IRA's, we fully fund them as quickly as possible every year and then start saving for the next one… that means they were fully funded for 2016 in January and we're saving for 2017 now. –
I use Acorns, max out my Solo 401(k), HSA, IRA, and then leave the rest in my business account creating a tax barrier so I don't touch it. – … Who then left this gif to show how well it's been going ;)
Other Great Money Tips
I send the wife an almost daily net worth update. It keeps her motivation up and frivolous spending down. –
My son has a new piggy bank, and I put my loose change in there because he likes the sound of money. Teaching 'em young to heart their dollars lol –
For annual bills (i.e. life insurance, property taxes), I pay monthly into a savings account to have the money easily available when the bill comes due. I find it's easier to make a bunch of small payments, rather than coming up with one large amount. –
I use Simple Bank for budgeting. –
All of my bills are on auto pay and the rest of the categories come out as cash from the ATM. –
Whatcha think? Any resonate with you? Gonna try any? Rocking some of your own?
If you're looking for even more tips (because, let's be honest, y'all are bad a$$es and probably do at least 90% of these already, right? :)) here are handfuls of other great ones for your perusal:
Happy $$$$, y'all!
*******
PS: Not following me on Twitter () or Facebook () yet? Come on over and extend the festivities!