Do you like pirates? Gold? Reading about money? If so, yarghhhhh gonna love today's book and following giveaway ;)
I partnered up with my friend, and published author, Joey Fehrman of the book to give one of you lucky scallywags a bountiful bag of loot valued at over $300:
A real GOLD coin (!)
A signed copy of Pirates of Financial Freedom (!!)
A two hour consulting session on money, business, publishing, pillaging, whatever you wish (!!!)
I hung out with Joey at our latest blog conference, and I can tell you he has an immense desire to help people manage their money better. And particularly through story-telling, which is the concept for his latest book. He may not be a pirate himself, but he's all about living it up on his own terms which we know is the ultimate goal of financial freedom.
Here's the plot of Pirates of Financial Freedom:
"With his back against the wall, Captain Dailey is forced to make a deal that's against every pirate bone in his body. In return, his son must save the crew from their financial problems before it is too late. In between gun fights, kidnappings, a blossoming romance, humorous pirate-isms, mythical beasts, and a long-lost treasure so extraordinary that it threatens to tear the crew apart, they must master life-changing personal finance skills."
I don't think Johnny Depp makes an appearance, but I'm hoping J. Money can if it ever becomes a Hollywood movie ;) I can tweak my 'hawk  into dreads! (No I can't).
The book is catered to the younger audience (tweens, teens, people in their 20's), but he's got great feedback from those who are 8 to 48 so it's obviously good for any of us looking to get our learn on. Or, our entertainment on for that matter. He's trying to create a new genre of "financial edutainment" to make learning about money more fun and easier to understand. Not a bad idea considering most people find this stuff boring! Joey's also offers a 90 day "if your money isn't better after reading this book, I'll give you a refund" guarantee as well, and he walks the plank walk with donating 10% of all sales to charity too – something else the book encourages.
Here are some of the concepts it covers:
Becoming debt-free faster without needing to make extra income
Learning the five steps people have used to go from paycheck-to-paycheck to millionaires
Automating your accounts to become wealthy without having to think or do any work
Harnessing your finances so you can responsibly blow money on fun things you want
Stopping to feel guilty about procrastinating on getting your finances handled
Sound like something you or someone you know could use? You can purchase a hard copy directly from for $24.99, or get a digital copy for $19.99. If you'd like to take it for a spin, you can also pony up to read the first half of it over at and then purchase it from there if you enjoy it (or else you'll never know the ending! ;)).
Here's more about Joey himself (not a pirate):
Joey Fehrman, CFA, is an Ivy League graduate with over seven years experience in finance. He has managed millions of dollars for wealthy families and institutions for two large wealth management teams at top-tier investment banks. While there, he managed portfolios, provided financial advice, and developed profitable investment strategies. He studied for years to become a Chartered Financial Analyst charterholder, the gold-standard designation in the finance industry. He is a native of Omaha and graduate of the University of Pennsylvania.
Intrigued? Feeling lucky? Wanna read about pirates instead of reality?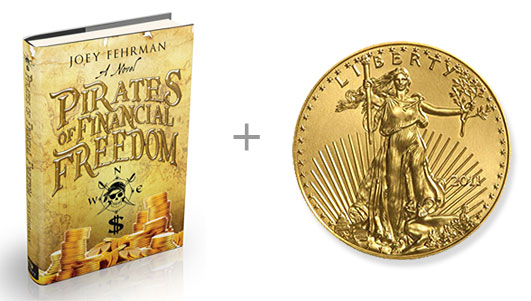 {gold coin not to scale ;)}
Here's how to enter for a chance to win today's bounty: a $300+ value (1/10th oz American Gold Eagle coin, signed copy of Pirates of Financial Freedom, and 2 hour consulting session with Joey):
Go to the book's website:
Find the section called "Master Essential Personal Finance Skills"
Tell us in the comments below of this blog article what skill you need the most help mastering
That's it! We'll run the giveaway for a full week, and then use Random.org to select the lucky winner after the 19th. And don't forget you can buy it too! Might make for a great holiday/birthday gift for someone you know. There's a lot of hornswaggling sea dogs out there…
—–
PS: Giveaway open to both US and CANADIAN residents – look at that! In fact, Joey said he'll ship the package to anyone in the world… Where my Ghana readers at? ;)
UPDATE: Giveaway now over… The lucky winner of the book, consulting session, AND coin is…. dum dum dum…. Will.i.am @firstqfinance! Congrats Will (i.am.)! We'll be shooting you a note shortly… Thanks for playing along everyone! I hope you get the book for Xmas ;)