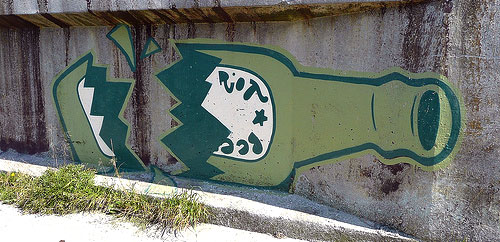 …At least for the next 40 days ;) Why do such a horrible thing, you might ask? 'Cuz it's the season of Lent, baby! Gotta get my Catholic on for our Lord's honor. And what's harder than giving up BEER to show you love him? Haha…
I think it's actually the hardest one I have yet tried to tackle over my reformed years :) And it'll save me a cool $100-$200 at the very least too! So you gotta love that… It's actually been over 7 days already since I've had my last drop of alcohol (I downed an entire bottle of red wine which I later regretted), so it'll be a nice change as well as a challenge.
Here are some past habits I've (pretty successfully) tried giving up:
2012: No candy/chocolate/desserts. Probably one of the easier ones I've done – though it was tough giving up my mint chocolate chip ice cream :(
2011: No cursing.  I failed 31 times in the first two weeks, but then got much MUCH better afterwards ;) And now I rarely curse, which is great. I've gotta baby listening to me!
2010: Still can't remember what I gave up this year – I probably skipped it by accident.
2009: No complaining. This was a GREAT one to try out – it's amazing how much you catch yourself being so negative. It affect all those around you too!
2008: Gave up shopping. And this one was the BEST FINANCIAL MOVE I have ever made hands down… I went from shopping 3 times a week spending $300-$400 a month to maybe walking into a store once a month now! This one experiment has lasted over 5 years now, and it still affects me and my finances each and every week – I love it. Highly recommend trying this one out if you haven't yet too – it's amazing what you find out about yourself and your habits.
2007: Gave up soda. Went from 2 Diet Cokes a day to maybe 1 Coke a week now – another habit that has helped me for the good!
And now we see how this beer and alcohol thing goes! Oh, I'm making it a "no alcohol whatsoever" deal btw – not gonna try and give myself a way out and merely switch to liquor or wine or whatever! I really want to see if I can accomlish this, and how it affects me going forward just like all those other years have done over time… It'll be the first time going that long since before college started! Haha… man that's scary.
Anyone want to join me? Anyone else celebrating Lent this year? I know it's one of those things that doesn't make sense to a lot of non-Catholics (or even Catholics for that matter!), but I see it as a way to hit pause and better my own life along with those around me each year. I think that can be important whether it's tied to religion or not – and even better when it saves money in the process! ;)
———–
PS: Searching beer pics for today's post? Yeah, that was torture.
{Photo by }