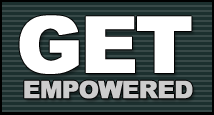 If there's one phrase I hate more than douchebag (although it's a close call) it would have to be – "I can't afford that." It drives me bonkers! Most people CAN afford "that," they just choose not to (right ?). It's a big difference if you think about it.
Saying you can't afford something gives all the power to a magical object out there looking to tease you. It knows you want it, but guess what – You can't have it! "Hah!" it laughs to itself. Little do they know how wrong they are. Sure, some things really are off limits (mansions, private jets, playboy bunnies) but the majority of stuff IS attainable – we just don't desire 'em enough to trade our money for the other things we could do with it. We've got houses to save for and debt to pay off, ya know?
We are the ones who decide where our money goes and how to prioritize it, not some $50 tee or 60″ flat screen. So tell those jackals to back off. They're not in control of us, WE are. We may secretly lust after them, but we're not about to wreck our financial goals for the quick high… at least not today ;) And even if we did that would still be okay because it would be OUR choice – not theirs. We're the empowered ones here, it's important to remember that.
But before you nix it from your vocabulary (because I know you will now, right? RIGHT?), let's get these objects out in the open for everyone to see! We're not afraid of them – we just prioritize our money! We like money, and we like having options. So pray tell, what is something YOU can afford but choose not to? Here are some of the answers my V.I.P. Crew holler'd with:
New cars, mountain bikes, Louboutins, flat screens, computers, $300 jeans, soda makers (), canoes, golf clubs, fishing boats, blenders, sewing machines, furniture, Wiis, hair cuts, and on and on and on…
There's nothing wrong with prioritizing our money guys. It's time to empower ourselves and acknowledge we hold a lot more buying power than we let on! We're rock stars, and we're proud to spend intelligently ;)