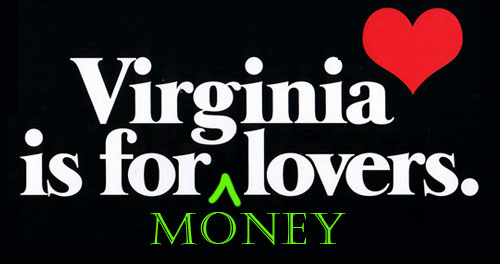 You know how financial experts are always recommending you move to a cheaper area to save money? As if it's so easy to leave behind your friends and family and everything else you've built and come to enjoy over the years? Well, I still think it's as dumb of an option to recommend since I first heard it, but I gotta admit there's some truth to the "saving money" part.
While we had a billion other reasons to take on our recent move here, saving money WAS in the top handful of them. And it wasn't that hard to pull off when you're coming from one of the most expensive parts of the country (DC), haha…
It's only been a few weeks since we've moved, but here are three areas we're now saving in:
We changed health insurance. Old:
$643

New:

$230!

This has been the highlight of our adventure so far ;) We'll now be saving over $400 for not that much of a difference in service. Or companies, for that matter. The folks at BlueCross BlueShield in DC wanted to attach a ridiculous $300 EXTRA towards our already outrageous premiums of $640 to keep us on the same exact plan we had (can you imagine paying almost $1,000 for health insurance?? Every single month for just 2 people??), and that quickly prompted us to look elsewhere in our new home state of Virginia.

So I went back to my trusty eHealthInsurance.com and plugged in all my data again (it's an aggregation site of all the health insurance companies and plans in your area – you can read my earlier post on it here) and it spit me out a handful to review and then submit for. And lo and behold there was a BlueCross BlueShield division in our new area too! Only with a different set of terms and management (aka higher copays and deductibles). So I applied for the quoted plan that $230 was attached to, and both the baby and I got approved within a matter of days :) And the differences in out of pocket stuff wasn't that extreme.

I then quickly cancelled our last plan (which required a physical letter and multiple calls on the phone, ugh), and we're now waiting to make sure it's 100% cancelled and I don't have to pay anymore for a service I'm no longer needing. Insurance stuff gets tricky here because you want to make sure the new one goes into affect okay, but in time for you to cancel your old one so you're not paying double the premiums. And a $640 "extra" premium for nothing is certainly not chump change :( So wish us luck it'll all go through okay! And at least all future ones will be cut down by over 60%!

Here's the revised list of our insurance premiums over the years now:
$200/mo – what I was paying 10  years ago
$150/mo – what I was paying over the next couple of years
$0.00/mo – what I was paying for at the height of the last start-up I worked for!
$280/mo – what I ended up paying at the end of 2010 when above startup went under :(
$292/mo – what I started paying in 2011 when I went through eHealth Insurance
$573/mo – what the new rates were when we added Baby $ to the mix in 2012 (!!!)
$643/mo – what it cost after a rate increase a few months later by BCBS :(
$230/mo – what it costs now :)
Needless to say I'm loving Virginia right now… And eHealthInsurance.com for that matter. This is one of those things anyone can look into really whether you've moved recently or not – just fill out some quick forms and see the quotes in your area (that is if you're self-employed or carrying your own insurance for any other reasons).
We changed cable/internet/phone provider: Old:
$210

New:

$145!

(Yes we still use a land line. And yes we still watch TV even though I hear you can become a millionaire after 40 years if you bank it all away at XYZ% and never watch TV again! ;))

This is another one of those things that can be done regardless of you moving or not, but which we were thankful it prompted us to do so we can start saving more money in that area. A $65/mo savings is not too shabby! And it would have been even more had we been able to sign up for a 2-year contract vs. 1 (our plans are to live here for only 1 year, and then re-evaluate after once we know about my wife's dissertation/job situation).

I should note here that we watch 99% of our movies through our cable setup, as well as most our favorite shows on HBO and Showtime (Game of Thrones and Dexter, anybody?). We've never used Netflix – though we're itching to try it – and rarely go to the movies. So a lot of our entertainment budget comes through this.
We changed daycare!!! Old:
$100/day

. New:

$48/day!

This is both good, and bad news actually.The good is we went from spending $100 a day to "only" $48 a day, but the bad is we now pay for more days than we did before.  4x as many days to be exact.

Back before the move we were paying $400 to have Baby $ at daycare just once a week (so, 4x a month), and now we pay close to that ($480) to have him there for a whole TEN days over TWO weeks! (20x a month). So while we are saving a butt ton on the true cost of day care out of pocket, we're also using it more and thus doubling our spending each and every month for a total of $960 vs the $400 we used to. It's a bitter sweet situation. Though I just count our lucky money blessings that we're not having to shell out the close to $2,000 it would have been had we gone this route in DC!! That's a freakin' mortgage payment! Or two!

(Also, $48 looks scary when you see the numbers pulled out "by day" like that, doesn't it? Reminds me of when we realized we were paying $60/day for our mortgage interest! Yikes!)

So yes, moving CAN save you a ton of money if you opt for a cheaper locale. But the same can be said for just doing some legwork in your *own* areas too. Whether it be for cable, insurance, and even daycare. You won't save *as* much not moving away, but it's still pretty smart to do. And the beauty is you just have to put in the effort once!

Anyone else saving some cash by switching services? Any tricks you'd like to share with us? :)

———
PS: I also just remembered that our car insurance is now lower too because of the move (we use USAA). Only by $10, but that still adds up over the years :)