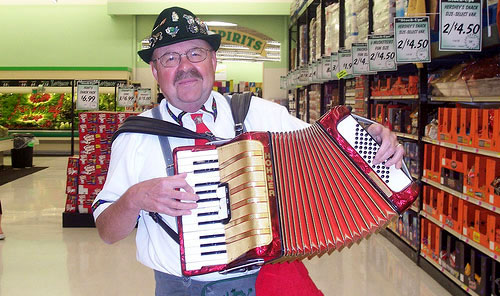 This past weekend we had the pleasure of hitting up our 2nd Oktoberfest celebration in a row :) It turns out almost every single town throws one, and if you can time it right you can get damn lucky and hit 'em up weekend after weekend after weekend throughout the entire October! Hehe… Which means lots of outdoor hanging out, and even better – lots of seasonal brews :) Woo!
Now if you've ever been to one of these events (and you totally should, even if you DON'T drink, just cuz it gets you in the Fall spirit of things) you of course know that you have to shell out a few dollars not only to get in, but then to enjoy such fine over-priced beverages and food that happens to be on tap as well. Which is perfectly fine because you already know what you're getting yourself into before even showing up.
And you also know that you usually have to buy "tickets" for these consumables too, which you then trade in to get your yummies instead of handing over cash each and every time. Probably because there's some law out there not allowing you to purchase and drink beers in the streets or something, haha… or maybe 'cuz they just don't want event workers handling cash, I don't know. But either way, that's how you get your food and drinks at these places – you exchange tickets for them.
Now at the first Oktoberfest we attended two Saturdays ago, nothing all that eventful happened. We came. We walked around the happy masses. We bought $10 beers. And then we left happier than we were hours before :) A nice and wonderful day that I didn't really plan on blogging about 'cuz it had nothing to do with finance  – unless you count those crazy beer prices… which is pretty much normal in places like NYC and LA anyways ;)
At our SECOND Oktoberfest adventure, however, we came across an interesting little offer that one of us decided to accept, and the other did not ;) As we were waiting in line to purchase these tickets mentioned above, a young hustler dude approached us and asked if we wanted to drink for MUCH cheaper than what the official rates were going for (at this Oktoberfest they were charging $5 a beer, unlike at the previous one which was $10). My immediate response was a hearty "no thanks," as it is any time a sketchy looking guy approaches me with an "offer," but my friend was completely unfazed and gladly prodded him for more details.
"I'll hook you up with 4 tickets for $10 instead of the 2 you're about to pay in a second" – The hustler mumbles back…

My friend: "Hmm… make it $5 and you have yourself a deal."

The hustler: "What? That's the price you're about to pay for ONE! Come on now…"

My friend: "Well, then that person will get my $5 instead."

The hustler: "Whatever man… fine… give me the $5 bucks."
Haha… and 2 seconds later he's got 4 tickets for a grand total of $5 bucks in his hands, and I'm out $10 for only TWO :) Granting him the better deal at $1.25 per beer now, and me at $5.00 a glass, jeesh… But of course that's the outcome of the decisions we both happened to make. I wasn't comfortable wheeling and dealing on the side, and my risky friend was.
The following flew through my mind while they were both discussing:

Where did this kid even GET these tickets? He's only 15!
What if they're not the *same* tickets everyone else is using? They're blue, but so far that's the only thing that matches up as we haven't seen any up close yet… What if you get caught?
Is the discount even worth the hassle? If you were already fine paying the $5/beer anyways?
And lastly – Is it IMMORAL to take up this kid's offer? Knowing full well he'll be getting the money instead of the people/companies putting together the whole event? Should it even matter?
Of course the entire transaction only took 30 seconds from start to finish before everything was said and done, so it wasn't like you could really THINK enough to make a calculated weighing of the pros and cons anyways – we pretty much had to go with our gut from the second we were approached and then wrap it all up. And I guess mine was saying "Stay away! Stay away!" Haha…
In the end though my friend made out with his dealings just as smoothly as anyone else did (the tickets ended up being legit), and we all went home happier and with much fuller bellies. The only question that remained, at least for me, was if this was a MORAL dilemma or not? It felt wrong to me, but why exactly was that? 'Cuz it was going around the system? I do that all the time when I find holes! I read somewhere that if the thought even crosses your mind when considering the morality of something, though, then more than likely you've got your answer right there. So I dunno…
I now throw it your way :) What do you make of this? Would YOU have taken the killer deal too, or walked? Regardless, at least I know I won't be losing sleep any time soon… and it was a nice reminder to always negotiate negotiate NEGOTIATE! If someone tries to hustle you, go hustle them right back! Haha…
Y'all stay safe out there this Oktoberfest season ;)
————
Photo credit: