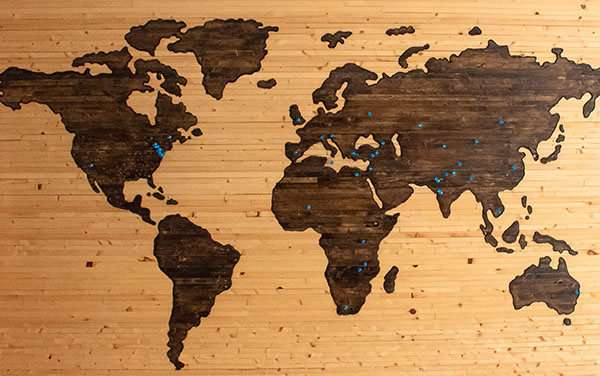 That was the subject line of a note I just got in response to yesterday's net worth post, and the contents did not disappoint ;)
Here's what my new favorite person shared:
J,

Sometimes I do this to get a new, fun perspective on money:

a.) Convert the length of your dollars (6") to feet, $791,150 = 395,575 ft.
b.) Convert 395,575 feet to miles = 75 miles
c.) Google map a radius of 75 miles from your home and pick a location
d.) Imagine laying all those dollars end to end to that location and walking the path

Just a fun way to visualize you still have lots of cash even after the latest downturns.

Me? From my home in Littleton, Colorado I can make it all the way to Laramie, Wyoming. (137 miles).

Completely useless information but sometimes makes me feel better dreaming of a thin green line down the middle of the highway.
Haha… How fun is this??? How far would you be able to go?? Should it be added to our spreadsheet tracking for even more motivation?? ;)
I just spent 30 seconds mapping the distance from my home (thx for saving me the calculating, man!) and looks like I can make it all the way to York, Pennsylvania from DC: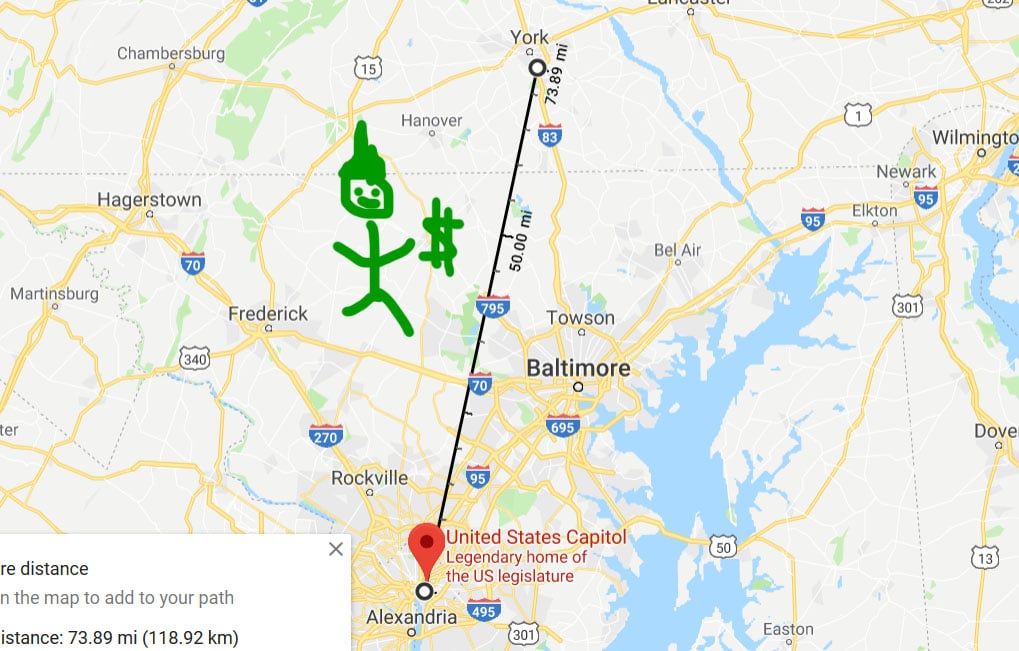 Pretty neat! Home of the peppermint patties – woop woop.
And if I wanted to make it all the way out to L.A., it looks like I'd need an additional $23,453,150 ;) Which will never happen as I'm stopping closer to the New York City area when I hit my early retirement number, haha… ($1,700,000)
His follow up note put it in perspective even more:
I used to do this as a kid, when the path only stretched across my room and into the hall.
So looks like he basically went from around $70 net worth to $1,446,720 over the years – not too shabby! I bet from simply doing this calculation day in and day out… ;)
Here's what you'll need to know if you wanna play along:

Number of dollars in a foot: 2
Number of feet in a mile: 5,280
Number of your net worth (You better know this!!)
Directions on how to on Google Maps: 1) right-click on your starting point. 2) Choose "Measure distance." 3) Click anywhere on the map to create a path to measure.  (I couldn't figure out how to do the *radius* per se, but by moving the dot thingie around I was able to find all the fun places I could build my Money Trail to ;))
Try it out and let us know how far it takes you! But make sure you're okay with everyone knowing how much you have as we're all nerds here and can easily reverse the calculations ;)
******
For more random, yet strongly alluring calculations, see: