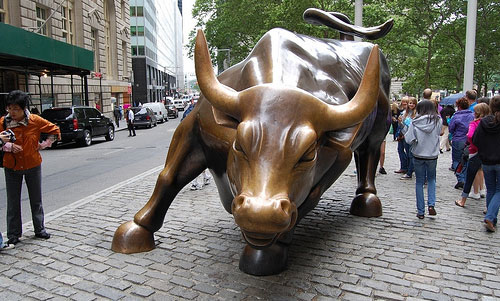 For a world record THREE years in a row, we're going for the good ol' IRA Max again!  Woohoo! $5,000 out of my cash reserves (I hope they enjoyed it there while they could! haha…), and right into my brokerage Roth IRA  ;)  One of my favorite tools around, and yet it almost slipped my mind this year – Yikes! Where else can you grow your money TAX-FREE forever and ever and ever? (And don't you say that Obama or someone later will change it either – that would be all kinds of jaaaaaaacked up!).
I love it though cuz it's such a finite limit on how much you can add in ever year ($5,000 if you're 49 and under, and $6,000 if you're above AND don't make too much to disqualify), so it's such a "WIN" under your belt when you can pull it off.  If you're good and can set aside around $400 each month, and set it all on rotation, you'll max it out time and time again as the years go by and you get older and grayer.  It's pure awesomeness. Even if you only earn 5% each on your investments, you could come out with almost 1/2 a million dollars JUST in your Roth alone!  How crazy is that?  (Try out Bankrate's to give you an idea — I just did it for my situation and it says I'll have $600,000+ when I "retire" at 65, W00T!)
One of my brother in-laws once told me that all he and his wife does is max out their 401(k)s and Roths every year, and then anything else is spending money.  "All they do," right? ;)  It comes out to a little over $40,000 a year which then turns into about $200 billion dollars in retirement, haha…. or, like $2Mil to $3Mil, but still – crazy.  (And by "crazy" I mean "I'm totally jealous").  I've come close to pulling that off and made it HALF of the way there 2 years ago with my 401(k) and Roth IRA max-combo, but unfortunately we couldn't do it for the wifey as well.  Either way it's a $hit ton of money no matter how you look at it, but the idea behind it all is the same:
Get in the mindset of hitting a certain goal each year & as time goes on it'll grow exponentially.
And it honestly won't take *that* much more effort out of you once you're in the rhythm.  That $5k I invested last year, and the $5k the year before that?  It's now up to $20,000.  You can't expect double returns every 2 years of course, but if you stick to it each and every year, you'll end up with plenty enough money by the time you need it for sure.  It's just a matter of getting into the habit. (And, of course, making enough to put in this "extra."  Gotta hustle, hustle baby!)
The only thing that remains now is *WHAT* exactly to invest this new money in :)  I've got $5,000 in pure cash sitting in my brokerage Roth now, and I gotta find something purrty to invest in.  I'm thinking maybe some individual stocks? Anyone have anything they like right now? All my other accounts have all the boring diversification funds growing inside them, and I like the idea of keeping THIS one more fluffy and fun.  I'm a huge believer in allocating a small % to riskier or do-it-yourself moves to keep things exciting.  Which isn't to say I wouldn't be upset if I lost it all in here, but at least I'd have the other 90% invested away intelligently as planned ;)
What would YOU invest in if you had $5,000 right now? (And you *had* to invest it)
——————
(Photo by )