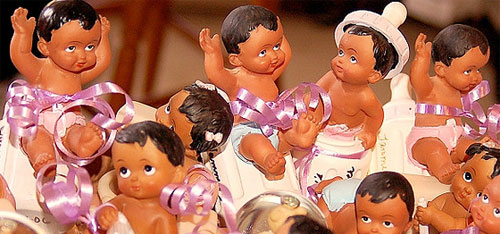 Just when you thought there were no more ways to make extra money :) I love it…
Here's the article about it on Today.com: . In a nut shell, a mother-to-be will receive $5,000 for allowing people online to vote for her son's/daughter's name – which is somehow backed by sponsors of the contest (I don't think a name could be "Coca-Cola" or anything…). Here's what this brave woman says about everything:
"Especially now with people all around me trying to pay their mortgages and get by, I have $5,000 I can put towards my baby's future, and $5,000 makes a difference in my life," Natasha Hill, a single, children's art teacher in Los Angeles, told TODAY Moms. "Here's the chance for me to do something really positive for my unborn son or daughter."
She does have a point there! $5,000 is certainly a way to start out with a baby – that's half of what we've already spent on ours in the past year and a half! Not saying I'd go and do that myself (after all, the kid then has to live his entire life now with a possible meaningless name), but I can def. see where she's coming from… Being a lover of money, and all ;)
At the time of this writing, it looks like 60% of others would consider doing it too! Only 42% of the people flat out said no – and that's out of so far (probably more by the time you read this). You never know what people will do for money! The higher the amounts, the crazier people get… I asked Mrs. BudgetsAreSexy if she would do it and I promptly received the Death Stare in return, haha… Guess I wouldn't even have a say in the matter :)
What about you guys though? Would YOU accept $5k to give up your rights to your baby's name? And if so, what would you do with it?? I reckon if we were talking $50,000 it might change a few of our votes (I'm not gonna dare ask Mrs. BudgetsAreSexy again!), but it's an interesting thing to consider never the less. How far we'd go for money, and if it's really *that* important at the end of the day anyways, ya know?
For now, I'll just keep hustlin' and bringing home money the old fashioned way…  Call me boring.
UPDATE: Turns out !! By the folks at … Which begs a new question – Would you ever get paid to try and pull off a hoax like this? Haha…
————
{Photo by }