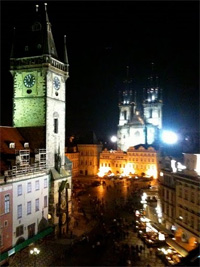 What a trip! Lots of sight seeing, lots of picture taking, lots of eating & drinking, and lots of un-PG stuff I can't mention here ;) I miss it already!
But you know who else I miss?  You guys! (Awwwwww) While it was a nice break from reality, it's always great to get back home and into the swing of things again. Even if that means hurrying to save back up again so I can get back out there! Haha…
I learned a lot out in Europe though – like no matter how much you budget, if you're with all your friends you'll always spend more ;)

Here are a few other things I picked up:
Prague beer is CHEAP!  $2 on average.
And you can walk off a hangover pretty easily – you just need 5 hours and a good pair of walking shoes :)
Also, if 10 people cram into an elevator made for only 8, and you're pretty rowdy (and/or drunk), it WILL get stuck.  And people WILL point and laugh at you.
The bathrooms over there are called "Water Closets!"
Prague LOVES Bon Jovi. Especially at – our fave bar.
Prague also loves graffiti.
Jewish museums/sites are closed on Saturdays.
And castles on Tuesdays (kinda random)
Vienna's beer – and everything else there for that matter – was almost double that of Prague's. Although the Euro falling a lot recently REALLY helped out.
It also reminded me way too much of D.C.  I think D.C. stole a lot of its architecture from Vienna – considering how old it is and all ;)
Vienna's nightlife was nowhere close to Prague's – but it was def. more sophisticated.
Also, Mozart was a genius at 5 y/o!
Make no mistake about it though, all this fun & learning came with a hefty price tag.  Here's what it cost the Mrs. and I to take this 10 day trip – although I'll admit a good portion of this could have been easily trimmed ;)
Flights + Hotels:

$2,910.20

(5 nights in Prague, 4 nights in Vienna – both rated 3 or 4 stars)
ATM Withdrawals:

$942.59

(We took out cash in each country via ATM to avoid crazy surcharges and to get a decent exchange rate. This worked GREAT for us (no extra fees at all that I can see), but not so great for a cple of our friends who got hit with $10 fees every withdrawal.)
Transportation:

$224.23

(Bus from Prague –> Vienna, metro passes, airport xfers, long-term parking @ airport (no luck convincing anyone to drive us or pick us up)
Foreign Transaction Charges:

$0.91

(from the 3 times we swiped our credit card – not bad!)
Cell Phone:

$90.00

($70 for prepaid data usage and $20 for prepaid text messages – would have been SCREWED w/out this)
Pet sitting costs:

$350.00

(VERY fortunate a friend was willing to house & pet sit for us while gone! One of our two cats are sick and needs medicine given 3 times a day :(  Had we left him at the vets or 3rd party service, we would have got killed here – easily $700+)
TOTAL DAMAGE: $4,517.93
This trip goes right up there with our honeymoon :) Lots of money but DEFINITELY worth it!  How many times do you get a chance to hang out with 12 of your closest friends like that? We're hoping to make this a yearly tradition going forward, but with everyone in baby-making mode who knows what'll end up happening.  All I know is that it was a good thing we got a nice tax return this year! And I'm a hustla ;)
Back to the real world we go…