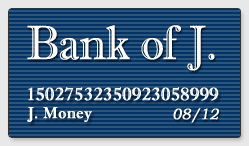 Remember how a couple years ago I decided to lend some family members money, even though I knew I probably shouldn't? And I always preach about getting things in writing, and staying away from large sums?
Well, color me stupid cuz I just broke all my own rules!  It's just so hard to NOT help out a friend who really needs it, especially when you have the resources, ya know? I trust her dearly and really, honestly, with all my heart, believe I'll be getting it all back shortly. Though I have no excuse for not getting it down on paper yet — I'm making a note to do it after I post this!
Here's the deal in a nutshell below. I'm currently one for two in getting paid back over the years, but I'm hoping my risk assessment makes this TWO for three ;) Would you help a friend in this predicament?
My friend (we'll call her Jackie), is going through a financially hard time at the moment.
She's got a lot of *great* job interviews lined up, and is one of the smartest people I have ever met in my entire life – no exaggeration.
Regardless of the job situation though, she's expected to get about $20,000 in the next 2 months from taxes and other revenue streams that just hasn't hit yet. *very important fact*
She's promised to pay me back the $5k before she uses it for anything else.
This $5k covers a month of expenses for Jackie (rent, food, medical bills, and other unfortunate expenses that's outside of her control.)
She doesn't believe in credit cards, or else naturally she wouldn't need my help.
So pretty much I'm "cash advancing" her money until the $20k comes through. Which is a definite lock and not subject to change (or else I wouldn't have done it). There are, however, some other interesting facts to the story.  Some good and some scary. Do these change anything?
I asked her if I could help, she didn't ask me. (A positive sign)
Once I offered, she made sure that I run it by my wife. Which I like not only because it reminded me to do so (BEFORE, rather than AFTER like I usually do, haha…) but because she understands it affects my entire family more than just our friendship.  Another positive sign.
I have the resources to help, or else I'd never have spoken up.
On the other hand, she *does* have other loans out. And while they're not owed back in the very near future, it is kinda scary knowing mine is one among a small handful of them.
It's also known that she's has been struggling for a good 4-5 months now. Which in a tiny way makes me wonder if I'm actually hurting her by giving her money, than helping? Like, if she didn't get this $5k, would she be forced to find a faster way to get that money?  Or would she realistically starve and get kicked out of her apartment? (but again, she does have quite a few good leads going now w/ the whole job situation)
That's pretty much the gist of it. Which is funny cuz it took all but 30 seconds in my head to come to the conclusion I was gonna loan her the money ;) Not the hour it took for me to write all this up!  Haha… but there you have it.  It seems pretty black and white to me, but then again I'm obviously biased. What do you think about all this? Am I indeed an idiot?  Would YOU have reached out and loaned someone close to you this money? Lay it on me, good friends!  You can't really change things, but you can still knock some sense into me ;)