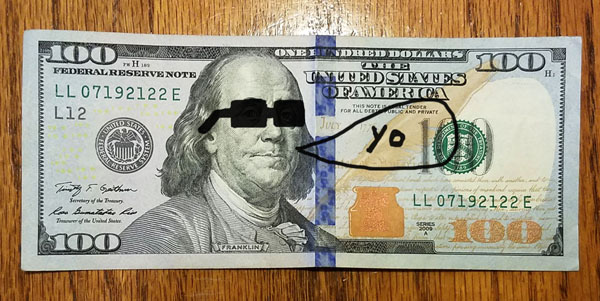 Howdy ho, neighbors!
In an effort to have more fun here, give back more, and of course drum up some good buzz for the blog (how can you beat giving away cash money to your readers???) we're going to be handing out a crisp $100 bill to one lucky reader every month until we either run out or change our minds :)
The only rules?
You must be signed up to our blog newsletter to be entered ( if you're not already)
You must tell us how you'll spend it if you win :)
Out of curiosity I asked people on what they would do if I gave them all an extra $100, and their answers were as varied as they were smart. I forget we're all nerds about this stuff, haha…
Here's what they said:
"Stash it and get back to work" –
"Send extra student loan payment." –
"Donate it to the ACLU." –
"Get a massage!!" – and
"Pay for a class I want to take" –
"Put it all in my Roth IRA" –
"Spend $20, invest $80" –
"Buy a stock with strong growth potential and a stronger dividend." –
"VTSAX! :-)" – and   and (VTSAX is Vanguard's Total Stock Market Index Fund (Admiral Shares). A popular investment choice amongst us)
"Give $20, create a memory with my family with the remaining $80." –
"Buy that comfortable pair of slippers I've been dreaming of and put the rest in savings!"
–
"Throw it towards the emergency fund" – @quicklikedeer
"Pay off credit card debt" – @SamRoberge08
How about you? What would you do with a free $100?
Make sure you're and you might just find out! First drawing happens tomorrow – good luck, budgeters. (And if you're already signed up, you're automatically entered too!!)
"I don't always read personal finance blogs, but when I do, I prefer Beautyofbali." – The Most Interesting Man in The World
UPDATE: Congrats to Rachel from AdultingByDesign.com for winning this month's $100! We'll do it all again in a few weeks :)
******
Giveaway open to anyone in the world where I can send money too. Drawings will be held on the 1st of the month and be randomly drawn from those signed up to our newsletter.