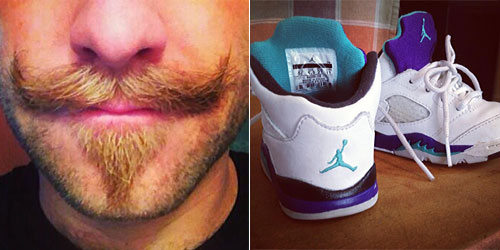 Here's everything that went on this week, as well as other interesting (?) things on my mind ;)
Happy Friday, money lovers!!!
Best place my money went to this week: Those baby Air Jordans pictured above! Scored them for only $11 barely used, and now all the baby chickadees will fawn over our handsome little baller ;) (I hear they make you toddle faster too)
Worse place my money went: $25.95 for some blood work? We had a pretty good week money-wise, really. And I'd gladly pay $25 to know my liver is functioning okay any day!
The most *annoying* thing that happened: Having to log into all my accounts and update my new credit card info across the board :( USAA had shot us a new one a while back due to that whole Target hacking fiasco thing, and I finally got around to updating my stuff before our original card expired… A good precaution to have, of course, but man. Reminded me to finally make a list of *every single place* our card is being used at so I can avoid all loss of sanity and/or possible fees in the future! Not fun stuff, but a part of our fiscal life we have to deal with I suppose…
Some things I've flirted with this week:
Keeping a , very well knowing it was probably the kid's ahead of me ;) (I wasn't a jerk and I returned it, though what kid/human being is going to say "no" after asking them if "this is your money?" Haha…)
Growing back my beard and/or handlebar 'stache… I had shaved everything off a couple months ago for a nice change, but now – out of pure laziness – it's grown back and at that stage again where you have to decide to go "all in" or get back to the baby face… Would you like to cast a vote one way or the other? (Note: it does save you some money ;))
Starting a … Even though the last thing I need is to spend more time online.
Things currently on the horizon:
Arrival of baby #2 – three months and counting!
Filing taxes – Still waiting on some forms to come in before I can knock it out…
Paying taxes – The worst part about filing them ;)
Favorite articles by ME (in case you missed 'em):
Favorite articles I've read lately:
My BookCrossing Project @ See Jack Save
@ Escaping Dodge
Why You Can't Get Ahead… Ever @ Afford Anything
@ Budgeting in The Fun Stuff
@ Echoes of Laughter
The best thing I've watched all week: This "" Personal Finance Rap Video by the ListenMoneyMatters.com crew:
How was your week?