A great reminder to start the year off right ;) Courtesy of :
There's an old story about a guy taking a smoke break with his non-smoking colleague.

"How long have you been smoking for?" the colleague asks.

"Thirty years," says the smoker.

"Thirty years!" marvels the co-worker. "That costs so much money. At a pack a day, you're spending $1,900 a year. Had you instead invested that money at an 8% return for the last 30 years, you'd have $250,000 in the bank today. That's enough to buy a Ferrari."

The smoker looked puzzled.

"Do you smoke?" he asked his co-worker.

"No."

"So where is your Ferrari?"
There's a couple of takeaways here, but the one I want you to take away today is that YOU HAVE TO STASH YOUR MONEY SOMEWHERE for it to count in the end! Whether you're saving from quitting smoking, drinking, nixing cable, getting roommates, packing your own lunch, getting rid of Starbucks runs (*gasp*), going down to one car, selling all your beanie babies, whatever.
Cutting costs is good, but if it goes right back out the window it kinda defeats the purpose.
(Not unlike eating a bag of marshmallows after a salad)
So as you're putting together your new resolutions for the year, don't forget to follow through and make your hustling ways count :) As my friend Derek Olsen likes to say, the only way how to save money is to get rid of the "how to!"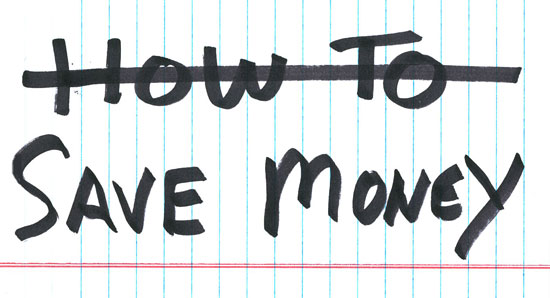 *********
PS: A small part of me hopes they cut off the last line from that joke and it actually ended with "…It's in the bank – BAM!" ;)
[Ferrari shot by ]