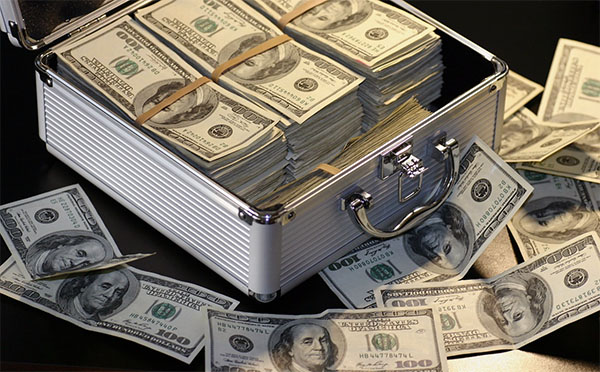 What's up guys!
It's that time again to give out another $100 in cash to one of you lucky Budgets Are Sexiers :) Rachel from AdultingByDesign.com won last month's Benjamin and ended up using it to pay off some of her debt (smart woman!). Now, maybe it's your time to snatch up the $$$?
As always, the rules are super simple to enter:
You need to be signed up to our newsletter ()
You have to answer this month's question down below in the comments.
And this month's question? It was inspired by a couple stupid moves I just made, and thought it would help me feel better hearing what YOU all failed on too, haha… Misery loves company, right?:)
Here's the question:
What was the dumbest thing you've done with money lately?
Here are the two things I just did:
I got a $40 speeding ticket driving home yesterday (!!). Which are always the worst because not only do you get nothing out of spending the money, but then you also can't blame anyone else for it! ;)
I found a brand new cell phone case in my drawer I thought I had returned 6 months ago :( Meaning, I effectively paid double for the 2nd case I picked up which I ended up liking better, ugh.
So I'm out $50.00 for basically nothing to show for it…
But maybe you have me beat?? :)
Tell us your fails in the comments below, and one of you will be awarded with $100 to help recoup your losses! Just make sure you're as we'll be checking our list before pulling the winner.
We'll announce who it is on this same blog post one week from today.
Good luck! And if you haven't done anything stupid lately, then just click away now as this giveaway isn't for you, you goody two shoes!
UPDATE: Congrats to Daniel for winning!! I literally had to randomly pick a winner before reading all of these so I keep it fair to everyone, because some of your stories – WOW. Just goes to show we all make mistakes!! And since we're all on $$$ blog right now at least shows we're working towards not making them again :) Thanks for participating everyone – will see you again in a month for our next giveaway.
*****
PS: Ever wonder where "goody two shoes" originated from? : "The History of Little Goody Two-Shoes is a children's story published by John Newbery in London in 1765… A variation of the Cinderella story, the fable tells of Goody Two-Shoes, the nickname of a poor orphan girl named Margery Meanwell, who goes through life with only one shoe. When a rich gentleman gives her a complete pair, she is so happy that she tells everyone that she has "two shoes". Later, Margery becomes a teacher and marries a rich widower. This earning of wealth serves as proof that her virtuousness has been rewarded, a popular theme in children's literature of the era."
(Though in the case of this giveaway, your virtuousness is not rewarded ;))