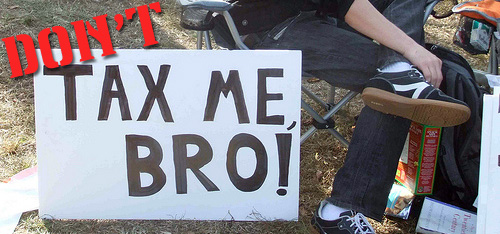 Haha… whatever happened to that guy? One minute and the most popular person around, and the next you're the butt of everyone's jokes… I'm sure it was fun while it lasted though :)
Anywho, how's everyone's taxes going? Anyone already done and over with it?
I'm having two firsts over here: 1) This is the longest I've gone so far without filing in recent memory, and 2) it's also the least stressed I've ever been :) Mainly because I'm now using Outright which tracks all my business expenses and income for me! No more messy spreadsheets and manual tracking, it's awesome (and also free).
The problem now is that there's no real sense of immediacy to get everything together since I'm not forced to scramble! Haha… that, and companies neeeeeeever follow the legal rule that we need all our tax forms send to us at the end of January or whenever that cut off date is. So I'm afraid I'll get everything together and filed, and then realize I left something out by accident when it's sent to me in the mail :( I just got another form over the weekend! Outright is good, but it still depends on you to make sure everything is accounted for and captured for those things that can't be automated…
So that's where I'm at anyways. Got most of my paperwork/info all ready to go, just waiting to pull the trigger and sit down with my accountant… Which I happily pay $200-$300 for to help me manage all our personal stuff, along with all our businesses and my billion random questions I'm constantly calling her with whenever I have a cockamaimy company idea ;) That hook up alone is priceless!
I'll probably get my act together in early March. And have a bucket full of cash waiting to be invested in my SEP Ira too in order to soften the tax burden after having a good biz  year… Another reason it's not a bad idea keeping lots of cash around! It may not be doing much most of the months, but the second you need it for something it sure does come in handy :) It reminds me of a quote I once heard from (of Dallas Maverick and Shark Tank fame) which went something like, "Always be able to jump on an opportunity whenever a good one arises." He may not be building/investing/creating something every single month, but the second he's found something to jump on he's ready to take action ASAP because he's got the structure all set up and ready to go.
That's stuck with me over the years, and I find it applies to personal finances all the same. It's about setting yourself up to win over time and not having to worry about your foundation. And it's not that hard once you've knocked out the "big ones" like debt and emergency fund/etc. All that gets knocked out over time and it's then all about growing and building on your own net worth there and being able to make quicker (and smarter) decisions because you know where all your money is, and what it's set up to do. Kinda like when you know if you can afford something in a split second rather than having to revert back to your numbers and run the calculations. It's really some powerful stuff!
But I've digressed :) How are your taxes going this year? Gonna owe or gonna get some nice amounts back? I hope it's the latter! You may be "lending the gov't money" that route, but I'd take that option all day every day even just for the thrill. If it makes you happy, so be it!
————
{Photo by / Tweaked by J$}