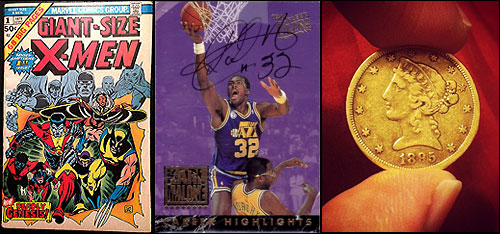 What up what up! As our awesome and rare comic giveaway is halfway over at Take Our Stuff.com (it's a valuable one so make sure to enter!), I've started to think about the other hobbies and collections we may have too. Specifically how much we SPEND on them all. Not that it's bad to throw money against the things we enjoy in life, of course – that's the point of money! – but that we at least *know* how much of it we're using as the budgets go by ;)
So this month's 5 For Friday is all about those favorite hobbies of yours. Here are your 5 questions below, and I'll kick 'em off as we always do by answering them first. Time to learn more about y'all!
What's your current favorite hobby?
How much would you guess you spend on it in a given month?
How does that compare to other bills you have?
If you were rich, would you get into a new hobby?
What if you were poor? What would you change it to? (Or would you?)
RE: Favorite hobby — D'uh. Though I haven't been participating much this year out of lack of time and the fact I got most of the coins I wanted from my friend's collection already, haha… He is holding a $1,000-worth and a $500-worth gold coin from the early 1900's that I still gotta get though, it's just gonna take quite the finagling to pull off as you can imagine ;)
RE: Monthly costs — Hmmm…. I'd say I was probably spending about $100 a month for the first few months as I was getting started and picking up all the stuff you need to learn and what not (coin books, , wasting money on coins I thought were really awesome/valuable but were not, haha…) and then it turned into about $200/mo once I got going. All money that comes from my gifts/extra money account which I allow for splurging. I haven't spent any money on coins though in the past 3-4 weeks and it makes me sad :(
RE: Comparison — I'd say my monthly coin budget (at $200/mo) compares to our cable/phone/internet bill as well as a little more than our cell phone bills – if you can believe that. Now if I were really smart I'd cut out both of those by a half and then increase my coin budget! Haha… but you can only cut out oh so much until it starts affecting your lifestyle ;)
RE: If I were rich — Hmm… great question, self! I honestly think I'd stick with the same thing? You can REALLY go broke in the coin world once you start collecting the super rare ones out there, so the beauty of collecting coins is that it spans all types of financial levels. You can spend as little or as much as you want.
RE: If I were poor — In this case I'd still continue collecting coins, however they'd be all modern ones so I can pay the bills again! Haha… I'd trade out all my 19th century discontinued ones in an attempt to no longer be poor anymore ;) That's the beauty of collecting stuff like this – it's actual MONEY! Though I'd definitely have to find a newer hobby if I could barely pay my bills and/or have no income/etc… Maybe I'd pick up fishing again or camping? it's been a while since I've done a lot of that, and I remember loving it back when I was a kid with a $1.00/week allowance ;)
Another thing I used to love to collect back in the day? Basketball cards! You only needed a couple of bucks to pick up a new pack of them, and the suspense of finding out what was in them was always worth it each and every time. Even though 99.9% of the time you never got anything super expensive, haha… But one time I did! I was that 0.01% and got a Karl Malone *autographed* card in a pack back in the day when they rarely did stuff like that! (We're talking mid-90's here, not to date myself) It was worth an Earth shattering $150 and I never found anything nearly as exciting again after that, haha… even though of course it got me to spend even MORE from that day forward ;)
Anywho, that's the synopsis of my lifetime hobbies – how about you? How much do you spend on your favorite hobbies? Would you change them if your financial situations were turned? Or do you already spend loads already and you *ARE* poor? Haha…. Tell us the truth in the comments below – we won't judge, promise ;)
——–
PS: I ended 6 of the 9 paragraphs up there with a winky face, haha… Now 7 ;)