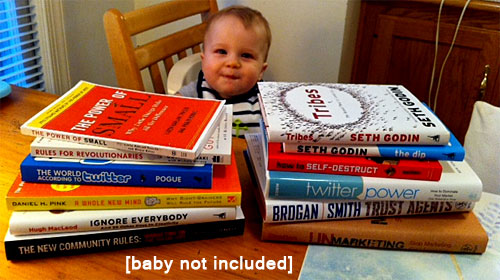 You know, it just occurred to me that it might cost a pretty penny to ship all these heavy ass books to you winners! Haha… oh well… what are bloggers for? :)
Speaking of winners, before we go and launch our last box giveaway here, let me go and pick the two from last week's boxes before I forget. Hold please…
Okay, back! The winners of last week's book giveaways are… dum dum dee dumm….
Congrats guys! Pass me along your mailing address (email it to me, don't put it in the comments for all to stalk you!) and I'll mail it out over the next handful of days.
Now, back to today's new – and last – box of books to be given out… Some of them I've absolutely loved, and others I couldn't get past page 3. But I'll leave it up to you to figure out which is which ;) I'm sure most of you have more of an attention span than I do anyways, so you'd probably get into them well enough to at least pull a few goodies out before throwing them away donating them to their next owner.
Here's what we've got (all blurbs from Amazon):
by Daniel Pink — "The future belongs to a different kind of person with a different kind of mind: artists, inventors, storytellers-creative and holistic "right-brain" thinkers whose abilities mark the fault line between who gets ahead and who doesn't."
, by Scott Stratten — "For generations, marketing has been hypocritical. We've been taught to market to others in ways we hate being marketed to (cold-calling, flyers, ads, etc.). So why do we still keep trying the same stale marketing moves?"
by Seth Godin — "A tribe is any group of people, large or small, who are connected to one another, a leader, and an idea. For millions of years, humans have been seeking out tribes, be they religious, ethnic, economic, political, or even musical (think of the Deadheads). It's our nature."
by Seth Godin — "The old saying is wrong—winners do quit, and quitters do win.  Every new project (or job, or hobby, or company) starts out exciting and fun. Then it gets harder and less fun, until it hits a low point—really hard, and not much fun at all.  And then you find yourself asking if the goal is even worth the hassle. Maybe you're in a Dip—a temporary setback that will get better if you keep pushing. But maybe it's really a Cul-de-Sac, which will never get better, no matter how hard you try."
by Linda Kaplan Thaler and Robin Koval — "Our smallest actions and gestures often have outsized impact on our biggest goals… Did you double-check that presentation one last time, or hold the elevator for a stranger? Going that extra inch – whether with a client, customer, family member, or friend – speaks volumes to others about our talent, personality, and motivations. After all, if we can't take care of the small details, how can we be counted on to deliver when it really matters?"
by Guy Kawasaki — "Guy Kawasaki, CEO of garage.com and former chief evangelist of Apple Computer, Inc., presents his manifesto for world-changing innovation, using his battle-tested lessons to help revolutionaries become visionaries."
by Jason Seiden — "You say, I want to make it to the top! I say, Why would you want that? That kind of success requires personal growth. Personal growth is difficult, stressful, and risky… How about an alternative form of success that requires no practice, no soul-searching, and no behavioral change whatsoever? … It's called self-destruction, and you're probably already familiar with it. But do you know how to achieve it?"
by Chris Brogan and Julien Smith — "Today's online influencers are Web natives who trade in trust, reputation, and relationships, using social media to accrue the influence that builds up or brings down businesses online. In Trust Agents, two social media veterans show you how to tap into the power of social networks to build your brand's influence, reputation, and, of course, profits."
by Hugh MacLeod — "When Hugh MacLeod was a struggling young copywriter living in a YMCA, he started to doodle on the backs of business cards while sitting at a bar. Those cartoons eventually led to a popular blog-gapingvoid.com-and a reputation for pithy insight and humor, in both words and pictures.MacLeod has opinions on everything from marketing to the meaning of life, but one of his main subjects is creativity. How do new ideas emerge in a cynical, risk-averse world? Where does inspiration come from? What does it take to make a living as a creative person?"
by David Pogue — "The wit and wisdom of the Twittersphere captured in a hilarious, occasionally poignant, and often useful collection of hand-picked tweets."
by Joel Comm — "Joel Comm is an entrepreneur, NY Times bestselling author, and new media innovator. An expert on harnessing the power of social media and mobile applications to expand your brand's reach and engage in active relationship marketing, Joel is a sought-after public speaker who leaves his audience inspired, entertained, and armed with strategic tools to create a new media campaign that will explode their business."
by Tamar Weinberg — "Blogs, networking sites, and other examples of the social web provide businesses with a largely untapped marketing channel for products and services. But how do you take advantage of them? With The New Community Rules, you'll understand how social web technologies work, and learn the most practical and effective ways to reach people who frequent these sites."
I literally didn't even open up those last 5 books – probably a good reason to give them away ;)
Okay – want them? You get the WHOLE BOX so only enter if you're cool with that, okay? Can't split them up and mail out separately I'm afraid, it would take me all week :( (And cost me even more of my pretty pennies!)
Answer this in the comments below:
What is your favorite business or marketing tip? (If you don't have one, tell us a financial one instead)
Drop it down below and you'll be entered. I'll pick a winner this Sunday, May 26th, and that shall be the last of my books to be given out… and to think it's only 1/1,000th of those we own, yikes.
Happy Friday, y'all!