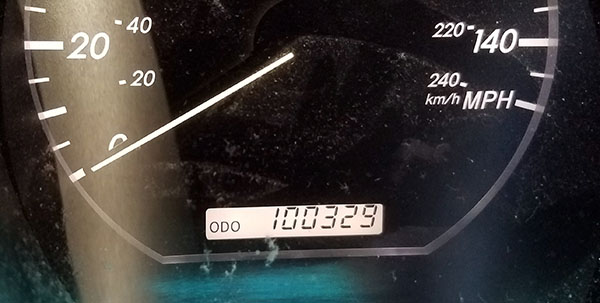 Glanced down at my odometer last week and realized my Lexi had crossed 100,000 miles!!!
Woo!
Went to humble brag about it because what proud parent wouldn't?!, and was quickly put to shame by just about the entire financial community, haha…
Here's what I wrote:
And then here's what I had to deal with:
"Is 100,000 a lot to some people?" –
"Add another 100K and that's when we buy them.. 🤣" –
"I've got a 2014 Subaru at 112K, a 2004 VW Touareg at 120K… And a 1988 Land Cruiser at 219K. #TRIPLEFrugal" –
"Your membership will be considered. We have a 2008 Toyota van with 178k and a 2004 Dodge Stratus with 127k." –
"My Ranger has 204k lol" –
"Not until you hit 150K 💁🏻‍♀️ …my Tahoe is 209K" –
"You're just breaking in. Just breaking in my friend! 177k here." –
"Rocking 190,000 with my car from high school. 💪🏼" –
"221k for my 06 Toyota Camry!" –
"05' vw jetta tdi 274,849 miles." –
"Still driving my 2009 Lancer 285,000 and ticking" –
"Currently at 295k on the Camry. Someday junior, someday…" –
And my favorite:
"Hold my beer…..VW Passat B5- over 350k :)" –
So basically, I'm still a rookie ;)

But every mile further gets me closer to the club!!! Which is actually a real thing, it turns out! There's a logo and t-shirt to prove it, haha…
$25.04 and free shipping right now ;) (Well done and !)
But despite the prodding, you can clearly see the "100,000" in small print, so I'm very happily putting that win in my pocket and continuing forward as a proud member…

Because having a paid off car is one thing, but having a paid off car that keeps going for decades and decades is a whole other! And from what I can gather, being able to run it into the ground is now the "cool" thing, haha… Anyone who's anyone is doing it – PEER PRESSURE!!!
But seriously, it really does save you tons of money so do it ;)
And while I hesitate to put this out there again just to get laughed at more, I am curious to see who else is a member of this rather elite club??!
If you've got over 100,000 miles on your ride right now, let us know in the comments, along with the make and model and year! Maybe we can find a 500,000'er up in here to help lead our club into the future, since clearly I can't be the one to do it? ;)
Pass those applications over!

PS: Shout out to the person who sent me this article to make it sting even more: