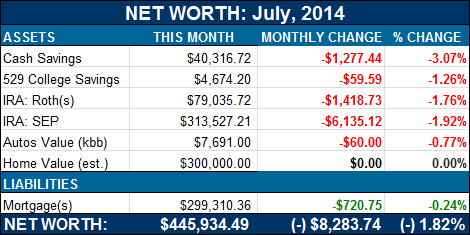 What goes up must come down! We hit a whopper of a last day to close out the month, didn't we? Jeez…  If only I had gobs of money to scoop up some shares while low! :)

But alas it's all a part of the game… 5 of the last 8 months have resulted in an increase of net worth, and it's all a long term play anyways. I don't foresee an early retirement in the very near future yet, despite how amazingly sexy that would be. But damn – that graph up there is just so freakin' UGLY with all that red! Haha… I'm surprised you're still reading this right now – it's a bloodbath up there! ;)
Here's How the Month of July Went Down…
CASH SAVINGS (-$1,277.44): As you can see, we're still struggling in the cash flow department. And unfortunately this will continue now that we're about to throw Baby Nickel into day care with his brother :( On the side though, this means the wife will be back to working on her dissertation again which then means a full-time job in her future – hooray!!! I can't even remember what that felt like as it's been so long (4 years? 5 years?), so needless to say that will make a major improvement to our monies :)
529 College Savings (-$59.59): Nothing added here for yet another month, but I DID get word that we'll be inheriting a little money to be used here, so as soon as that goes through I'll let y'all know and see what happens :) Nothing's better than free money except for free money that WILL CONTINUE TO GROW in investments! Haha…. And preferably not the result of someone passing away to get it, of course. From what I hear, this family member has been long gone though so it's coming as an even better surprise :) I hope to leave secret stashes of money for my family to find one day too, haha…
IRA: ROTH(s) (-$1,418.73): This area hasn't received any extra money into it either… I typically wait until the end of the tax year to dump it all in once I see where our business/tax situation is at. Which makes most monthly updates here boring as $hit, and then once a year down right fantastic.
IRA: SEP [now merged with my old Traditional IRAs!] (-$6,135.12): If you recall, we had 3 traditional IRAs going for a handful of years (my old 401(k) money) until I wised up and merged them altogether under my move to Vanguard last month… So while it was fun to have these IRAs separated out from my SEP for reporting/tracking enjoyment, everything's now mixed together and I'm getting used to just seeing one large ass number in my account. A weird feeling for sure, but for the greater good of simplicity.
Here's the old breakdown of them one last time for good time's sake (guestimated):
SEP Ira: $83,000'ish
Traditional Iras (old 401k): $230,000'ish
And here's the snapshot Vanguard gives me when I log in… Not as pretty as last month's!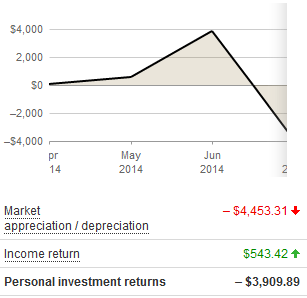 AUTOS WORTH (kbb) (-$60.00): No news to report for July, which is probably a good thing considering all my crashes recently ;) Even IF Franken-Car has turned into my side hustle! Haha… What are we up to now? $2,000 made off people slamming into that bad boy? I really could be onto something here.
Here are the estimated values of both our cars:
Pimp Daddy Caddy: $1,000.00
Gas Ticklin' Toyota: $6,691.00
HOME VALUE (Realtor) ($0.00): We'll continue to list this at $300k until another 6-12 months goes by where I feel comfortable reaching out to our realtor despite us not being in the market to sell it yet. I know people like Zillow and the similar sites out there, but it always seems the numbers are way off for our house (now a rental) so we just stick w/ our realtor's expertise and go from there… Doesn't really matter until we go to sell it once day anyways, which might be sooner than later if I have it my way ;) Have I ever mentioned how I dislike home ownership?
MORTGAGES (-$667.14): The good news from last month continues to carry over here :) Not only are we NOT underwater any more (HOORAY!!!) but we're now flowing into "home equity" area making every extra payment against our house even more sweeter than before. To think it only took 6 years for us to get back to this point! *Keeps head low*
Here's what's left on both mortgages:
Here's how we're doing over 12 months: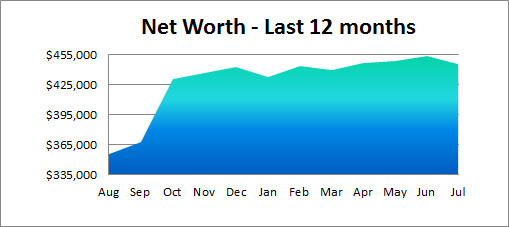 Like my new gradient-style graph circa 1998? ;) Makes me want to take a dip into the Caribbean ocean… naked.
And that wraps up another month in our sexy financial life here! Hope this helps some of y'all out! As I mentioned to a reader last week who asked what the point of your net worth was, it's to have a baseline to measure your future success/failures to as time goes on. The only way to tell if you're doing better or worse is to track the numbers whether you're trying to get out of debt or save into the millions. Of course you can gauge that fairly well on your own since you know your money more than anyone else, but having it recorded down somewhere does wonders – believe me. And if it seems too annoying to you to do, just do it once a quarter or even once a year. The numbers (should) be drastically different as time goes on – and hopefully for the better.
Here's to a great August! As always, feel free to share your own numbers or us to gawk at learn from below too if you're comfortable doing so. Or check out our list of 80+ others on our ! You can always go anonymous too if you prefer – it's not like my license reads J. Money :)
'Till next time,

PS: Here's the past 6 years worth of net worth updates if interested: J's Million Dollar Journey