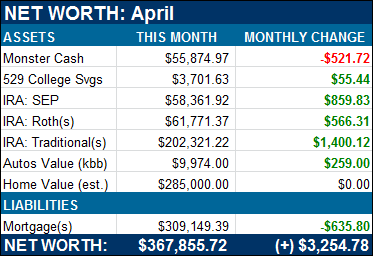 What up, what up!
Onto net worth update #62! How crazy is that?? One day you're shooting for $100,000, and the next – 5 years later – $400,000. At least it's all trending UP! Haha… this blog may may not have lasted as long had it not ;)
But seriously, if you haven't been tracking your money at all, today's the day to start. Even if it's something as simple as:
"Here's what I have in my bank accounts right now:  $______, and here's my total debts: $______."
And then come back again next month and do the same – it'll take you like 2.5 minutes, it's easy. (That's what she said??)
As for my own trackings these days, looks like we inched up another few thousand dollars but have also continued to bleed a little cash in the process. Which unfortunately I'm afraid will continue to do so over the next two months with yesterday's news on the horizon. But at least it's all FUN changes in the air! Much better to be going towards an adventure than to something boring :)
Here's how last month broke down:
MONSTER CASH (-$521.72): When I first started looking at this two weeks ago I thought we'd be F'd for the month, but a few awesome deals came through and saved the day – even though it doesn't look like it from the numbers :) Life works awesomely sometimes!
529 College Savings (+$55.44): A nice boost to Baby's pot there, with no additional infusion from his parents this month.
IRA: SEP (+$859.83): The market was on our side here too, this month!
IRA: ROTH(s) (+$566.31): As well as with this section…
IRA: TRADITIONAL(s) (+$1,400.12): And also this one. You can tell that the more money you have in these accounts, the more of an increase occurs too. Though unfortunately the opposite is true too ;) (When the market crashes, so does more of your money!)
Here's an update from our almost 2 year old IRA Test now. I got an email about when I was going to write a follow up on it since it's been forever – which I will at some point – but so far neither inspiration, nor analysis, has hit me yet. One day!
IRA #1 (NOT Managed): $69,865.87 **Leader for over a year

IRA #2 (Managed, USAA funds): $65,905.02
IRA #3 (Managed, ALL funds): $66,550.33

AUTOS WORTH (kbb) (+$259.00): I've given up trying to figure out why it goes up so much every few months. I guess my cadillac is just *so* hot right now that it defies all reason ;) With it's cracked paint and all even, woot!
Pimp Daddy Caddy: $2,160.00
Gas Ticklin' Toyota: $7,814.00
HOME VALUE (Realtor) ($0.00): Nothing much to report on here – still at $285,000 down from the $360,000 we once paid or it many many years ago, ugh…
MORTGAGES (-$635.80): A nice chunk knocked away, but a far cry from our $2,000 we were doing month in and month out. As you can imagine though, all extra payments are on hold until our move is over and we're back to "normalcy" again. We'll be needing that extra money like a champ.
Here's how our two mortgages currently break down:
And that's that for April. Nothing too crazy on either side of the equation, but sometimes you need that to calm down those other months that get ya :)
How did you guys fare this last month? Anything cool to report? I'm off to do some more packing around these here parts… Not the most exciting thing to do in the world, but at least I get to flex my minimalism muscles more! We'll see if I can put my money where my mouth is ;)


———————
PS: Don't forget to start tracking your money if you aren't already!! You'll hit month #62 in no time too – and hopefully have more than me when you get there! (Here's the budget template I use if it helps – with a Net Worth section built in. Feel free to tweak to your own liking…)