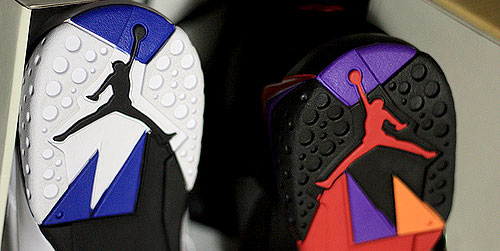 (Gust post by friend , as part of our Side Hustle Series. Have one you'd like to share with us too? Give me a shout.)
In between family duties and blogging duties over at , I resell old sneakers I own for side money. I have been doing this for about 10 years now and the income varies on how much time I have to dedicate to this, and the demand of specific sneaker styles that are available.
I mostly started this because I became a sneaker addict in my early 20s. I gobbled up Jordan's, Nikes, and other various sneaker brands, whatever tickled my fancy. In a span of about 5 years I collected about 50 + pairs of sneakers which retailed between $100-$150 bucks each. If you do the calculations, that comes out to between $5,000 and $7,500 in total shoe value!
I could have bought some apple stock back in 1999 and been better financially speaking right now, but we live and learn right. My net worth would have probably bested J. Money's if I did that back then, lol. Anyways, I used to work at a very famous apparel retailer and I would get most of the sneakers at a substantial discount of about 30%-50% off – thus adding to my overall profitability in eventual resale transactions later.
How I Resell My Shoes
Whenever a new sneaker was released I would buy it on release day, wear it for about a few days, and then clean it and put it away in the box. Certain styles sell out in the first day so a sense of urgency is required to grab them. I then noticed that as demand increased (due to time passing and limited quantities being made) I could resell them to pretty much any new sneaker fanatic for a nice profit.
In the beginning stages of this venture I used eBay, but now I primarily use a highly reputable sneaker consignment store. Some eBay customers began to show signs of shadiness. This consignment store takes a 20% fee for all new never worn sneakers, and a 30% fee on slightly used in demand sneakers. Even with the fees associated with finding a buyer for my sneakers, I can potentially make about $50 to $300 per sneaker sale. Obviously my average profit on used sneakers is less than on new never worn ones. But the deciding factor is how in demand it is and the year it was released, with the older models getting the top prices.
In a good year I can make about $2-$3 Grand. This is not a large amount of money, but given the fact that I enjoyed wearing half of the shoes I end up selling, any profit is good profit.
Past Sneaker Sales
Jordan Retro 1 – Black / Red released in early 2000s – Paid $50, profit from sale= $200 (Used)
Jordan Retro 7 – Olympic Colors Scheme released in mid 2000s – Paid $200, profit from sale= $100 (New)
Jordan Retro 13 – Black / Red released in mid 2000s – Paid $150, profit from sale= $275 (New)
Jordan Retro 11 – Black / Royal Blue released in early 2000s – Paid $100, profit from sale = $225 (Used – only worn 4 times)
These are just a few examples of the amounts you can make if you owned the right editions of Jordan Retro sneakers. If you are extremely lucky to find the first air Jordan sneaker that Michael Jordan wore back in 1985, you'd be looking at thousands and thousands of dollars if the pair's good condition.
The sneaker collecting phenomenon is growing every day with the younger generations, and it is also gaining popularity in various international countries, like Japan, the UK, and Korea. Because of this, if you own a great sneaker you can always find a buyer for it.
How You Could Do it Too
If somebody wanted to get involved in this type of side hustle, they usually would not get a discount like I did because premium sneakers like these are no longer discounted by coupons, and many retail companies are limiting employees from buying them due to the high demand for the products.
What you can do, however, is:
Pay full retail for the sneaker
Get it on release day to avoid a sellout situation
Gauge demand in the first week and see if it's worth it to sell
If you are not getting the profit you desire, hold them for a period of time (the asking price tends to go up with certain styles)
Pray you can get a profit later with the right buyer
As of right now my collection has dwindled to about 20-25 pairs, but I am starting to see demand pick up again within the economy and I will be hitting the stores in the near future to find the most in demand styles that I can resell. The oldest pair I own is about 8 years old now, and it could probably fetch me a profit of about $350 dollars.
Lately my style of shoes has transitioned into a more mature less flashy footwear, so I am taking turns selling out my inventory and buying more casual less expensive sneakers for me to wear.
Are you a sneaker fanatic yourself? How many pairs do you own?
—————–
You can find Rich Uncle El at , where he blogs about simple easy money topics with an added twist of his own personal financial battles and achievements. He'd love for you to follow him over on Twitter , or if you'd like, on Facebook:
EDITOR'S NOTE: Did any of you see the World's largest Nike collection/museum (AKA ) try to get pawned on Pawn Stars the other week? It was fullllll of sneakers JUST like these mentioned above, and the seller/owner wanted a cool million for it all. It didn't happen ;) As always, Rick (the Pawn Star guy) tried lowballing and the deal never got made… Very cool stuff though for sure. I remember DYING for a pair of Jordans back in my middle school days! Instead I had to settle for some knock off  my dad brought back from Korea, haha… good times, good times.
{Top photo by / Bottom photo from Uncle El's collection}