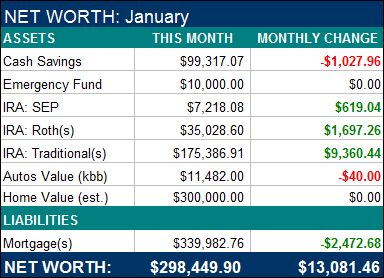 Getting soooooooo close to $300k, I can taste it! Just a little way to go and we'll hit it in no time – I'm pretty psyched.
You multiply that by 3 and we've hit $1 Million dollars son! :) Something I never would have guessed was possible 4-5 years ago when we were pretty much breaking even every month.
(That was one of the first lessons I learned with money – it's hard to grow it if you don't have anything *extra* to add up at the end of every month!) And while it looked like we slacked on the cash front this month, we actually did pretty well over all but a couple nibblers got in the way and took out some of the zing.
1) Our cat, Bob, got sick again (twice), and we finally made the decision that we're not bringing him in again as it's best for both him and us at this point (we added $1,300 to his bill which by now is probably reaching $5,000-$6,000 in the past half a dozen months).  He's now got 3 serious diseases, and while we can revive him w/ every 5-6 day vet stay, we're pretty sure his quality of life is finally going way way down.  So we're spoiling him as long as we can from this point forward, and as soon as it's time to go back to the vet he'll be sent away to the Heavens above.  We're appreciating every day we have left with him though, and so far he's 30+ days w/out much trouble! :)
2)  We had to cough up an extra $8,000 more in taxes this quarter cuz of my last bump in revenue I got in December.  I should have just not included it in last month's net worth update really, but of course it slipped my mind and I forgot to take it out ;)  It's all good though, it's all the same thing in the end, right?  I'd  happily make an extra $25k again and pay my due share of taxes…
Other than those two big changes, the rest of the month hummed along nicely and the stock market took care of the rest (well, besides us keep moving forward with Operation Kill Mortgages! Another $2,000+ wiped away – woo!) Here's how the other parts of the equation broke down.
January, 2012 Net Worth Break Down
CASH SAVINGS (-$1,027.96): A negative number this month, but only because I goofed up on our net worth tracking last month ;)  As I mentioned above, we had to shell out an additional $8,000 in taxes last month (which shouldn't have been included in the last update), as well as $1,300 to heal our sick cat which took us down a little. I'm expecting Feb's numbers to look a lot more prettier now that I've gotten a good grip on my post-Love Drop lifestyle. It's amazing how much more time you have to hustle when you're not flying all around the country every other weekend ;)
EMERGENCY FUND ($0.00): Still at the same $10,000 we've hit, and left alone, for the past 3-4 years now. Some of you have mentioned that we should pump this up a bit now that I'm self-employed and we have a baby on its way, but I also consider some of that other $99,000 in cash we have stored in various places partly to help in emergencies too ;) That $10k will just be the first to be hit (and hopefully the last!).
IRA: SEP (+$619.04): Nothing more invested in this bad boy last month, but in a little bit we'll be REALLY pumping it up as soon as I get the go ahead from my accountant on how much I can legally put in (we're expecting around $23,000 so far).  Not only will that cushion the tax blow for 2011, but it'll allow me to invest in some more loveable stocks too! Woohoo! :)
IRA: ROTH(s) (+$1,697.26): This guy will remain stagnant when it comes to us putting anything more in, until we get a good grip on what the baby costs are gonna be in the second half of the year… we'd love to max out BOTH our Roths this year (at $5,000 a piece) but it's def. at the bottom of our priority list for the time being. We'll see what happens though…
IRA: TRADITIONAL(s) (+$9,360.44): Pretty damn sexy for just allowing the markets to do their thang!  Of course, I'd like to believe it's all because I've brilliantly picked the right funds to invest in and what not, haha, but we all know the whole thing's just a crazy game.  Most of these companies' core business never changes, but so many investors sell and buy based on the latest news from talking heads and/or weirdos, ya just never know what's gonna happen with these markets month after month… as long as we're inching upward over time though, I'm happy to stay on board and play by the rules ;)  If I sold it all now I'd be up $10k for the month for just doing nothing!
And here's an update on our Ultimate IRA Game too. It looks like one of our adviser-managed fun has sneakily taken the lead! We'll see how long that lasts for…
IRA #1 (NOT Managed): $58,608.95

IRA #2 (Managed, USAA funds): $58,100.49
IRA #3 (Managed, ALL funds): $58,677.47 **The new leader, by a hair

AUTOS WORTH (kbb) (-$40.00): Nothing too worrisome in this department.  Just our cars getting older and losing value as to be expected.   Here's how they break down this month (we use KBB's "private party" estimations as that's how we'd sell them once/if the day ever comes)
Pimp Daddy Caddy: $2,410.00
Gas Ticklin' Toyota: $9,072.00
HOME VALUE (Realtor) ($0.00): This is stagnant at $300,000 too. Not gonna update it until we talk to our realtor again down the road, which may or may not happen anytime soon (I don't want to bug him unless we want to take action on either selling or renting. And I don't trust Zillow or the other programs very much, though they are entertaining to watch ;))
MORTGAGES (-$2,472.68): Up to FOUR months now!  Man, time goes by SO fast, right?  I'd like to say paying down these mortgages are getting easier over time too, but I'm not gonna lie – it's tough.  And we've still got like 1 billion more months to go!  Jeesh… I'll be writing a big blog post about it all soon – too tired to get into it all right now ;)  At least we're still pushing forward though! Here is what we owe still on both mortgages:
That's it for this month!  How'd you all do?  Anything exciting or scary come out in Jan for you?  As you know I only wish the best for you guys, so feel free to ask questions or talk about some awesome game plans in the comments below! :)  We're all in this thing together, baby.
To a great 2012,


———————
PS: For those who have asked recently, I'm starting to put together a 4-year net worth review since I started tracking all of this stuff back in the day. It's a lot of info to take in, but I'm hoping to share a nice summary post w/ y'all soon on how things have changed over the years… if you guys have something similar yourself, I'd love to see it!  Drop me a link or an email sometime so I can marvel at all your progress and/or pretty graphs :)