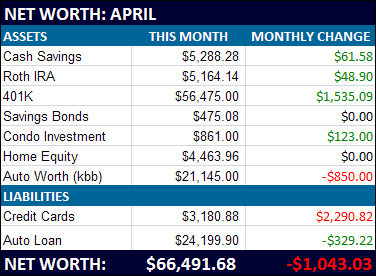 Hum … not my favorite month's review, but it's all good.
Gotta have those down periods, to make those up ones feel even better, right?
Most of this was also expected, so no big shocks (thank goodness).
The main difference here, from all other months, is the massive jump in the credit card category due to more wedding related costs.
I'm not scared yet though, we have a good month to pay it off before finance charges kick in … and even at that point, it's only at 5%, so it's not THAT bad. We'll definitely be hoping for cash wedding gifts now though ;)
Here's how the other categories played out this month (no promises it'll be exciting):
Cash Savings: The $60 here is a bit deceiving, as my actual cash went up a good $600 thanks to my new best friend – George Bush! I ended up taking my bond amounts out of here (it deserved it's own category), and then took out 48 crisp $1 bills from my stash for my current art project.
Roth IRA: I like earning money for doing nothing at all! No new deposits in here.
401k: We're finally starting to get some of the due deposits into our account now. While we only had one deposit this month, we're still waiting for a good 5+ to hit any day now. Weeeee!
Savings Bonds: These were the bonds i found in my safe the other month. Had to take them out of the "cash" area as it really didn't belong there…i was just too lazy to edit my graphics last month ;) Now I'll be able to see the differences each month a little better too, esp. when I start adding some bonds down the road.
Condo Investment: Same ol', same ol'. $123 each month still going to my bro until we agree to stop.
Home Equity: Still at a stand still due to our frozen Heloc adventure. We don't plan on paying off more of either mortgage for at least 5-6 months, as the 9k we accidently "paid off" is enough for right now.
Auto Worth (kbb): ARRGHHHHH again. 3 months in a row now. i. still. hate. cars.
Credit Cards: All wedding related stuff – honeymoon, flowers, dj, you name it. We've already started getting some cash gifts coming in, so we're *hoping* to get enough to pay it all off before, or soon after our wedding. Either way, it's all good for now.
Auto Loan: Another measly $300ish principal payment. No more thoughts on selling my car, too much going on these days.
'Tis all for now fine folks. The sidebars have been updated, and life continues on with another glorious day ;) HAPPY FRIDAY!!!